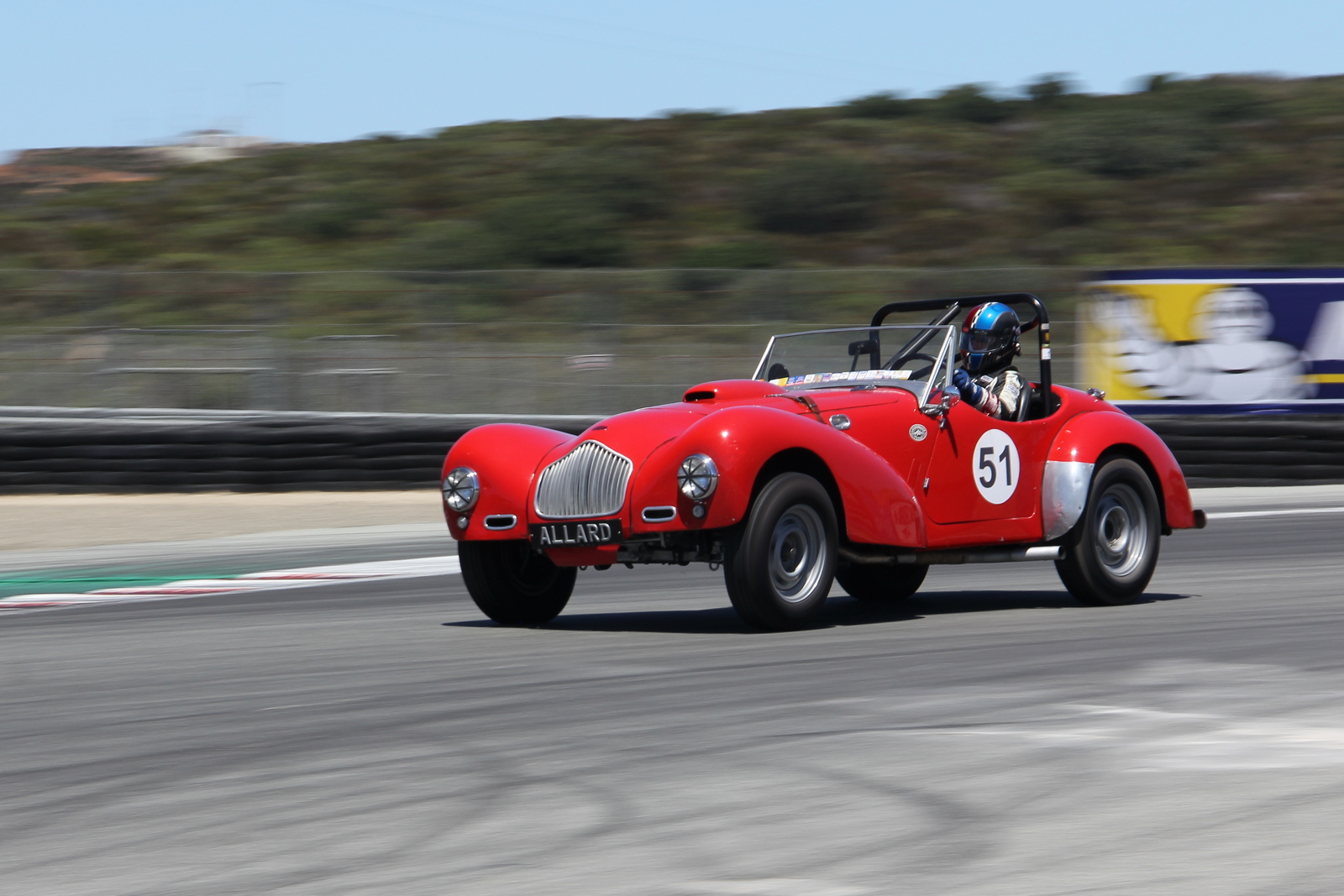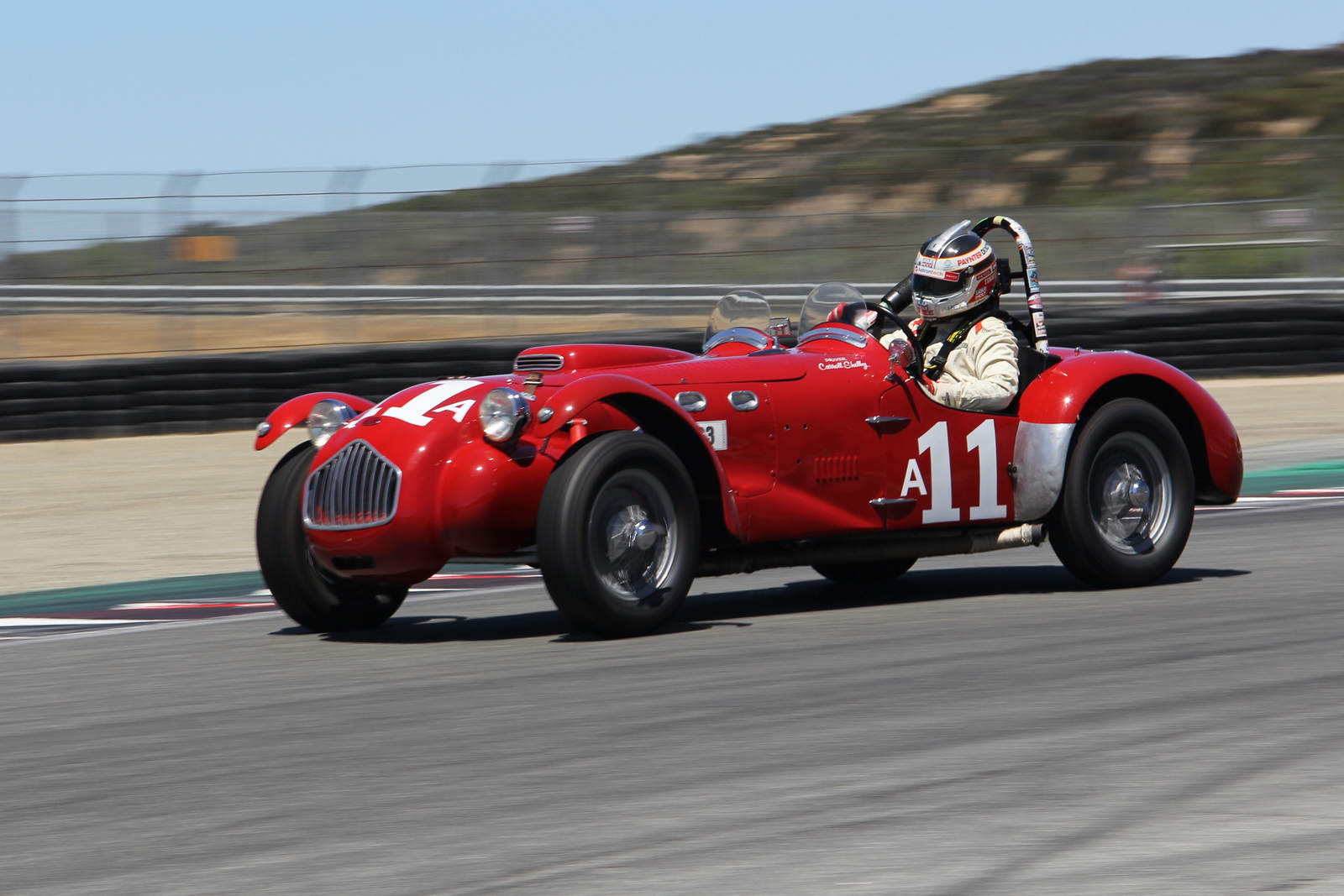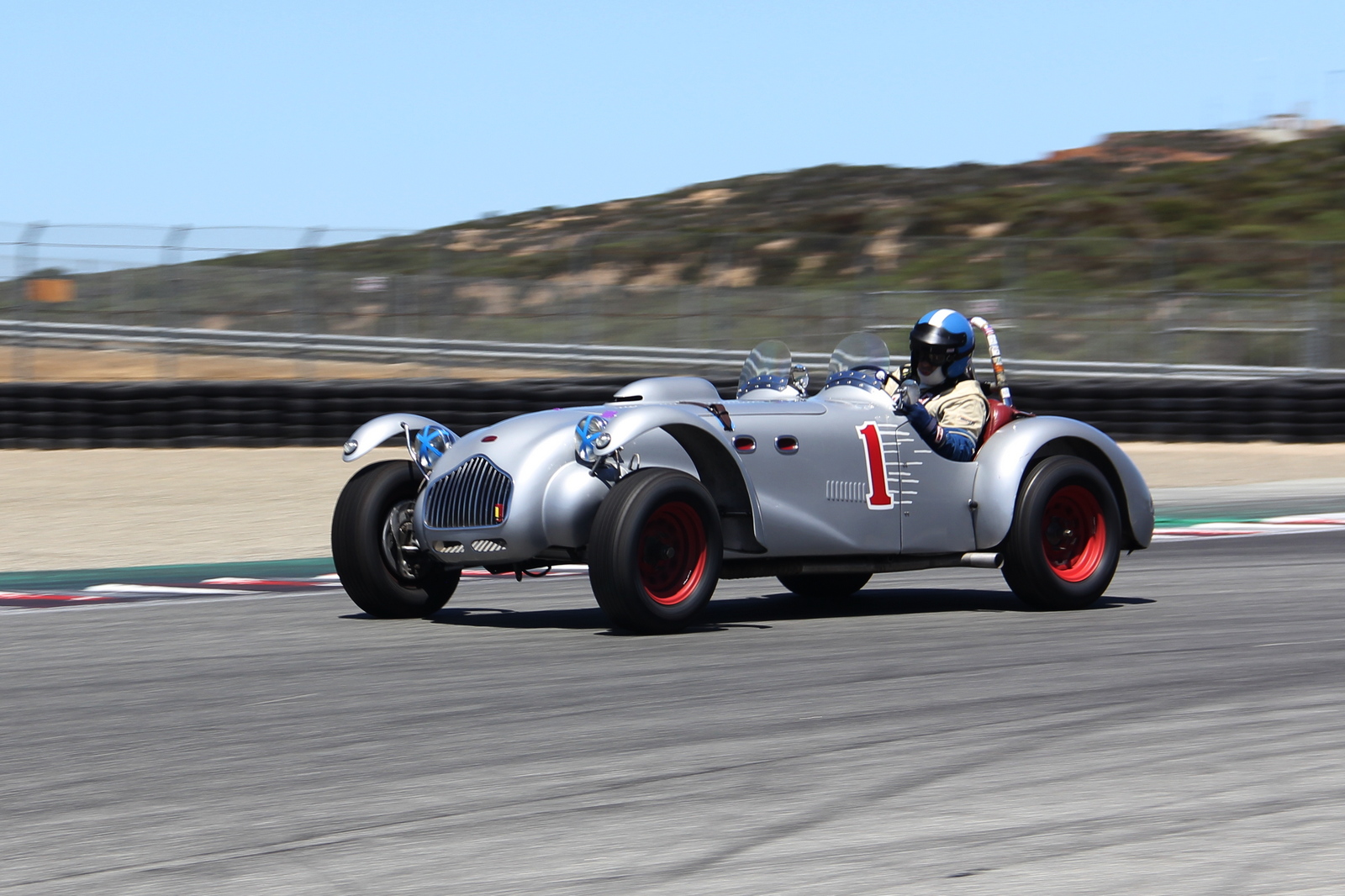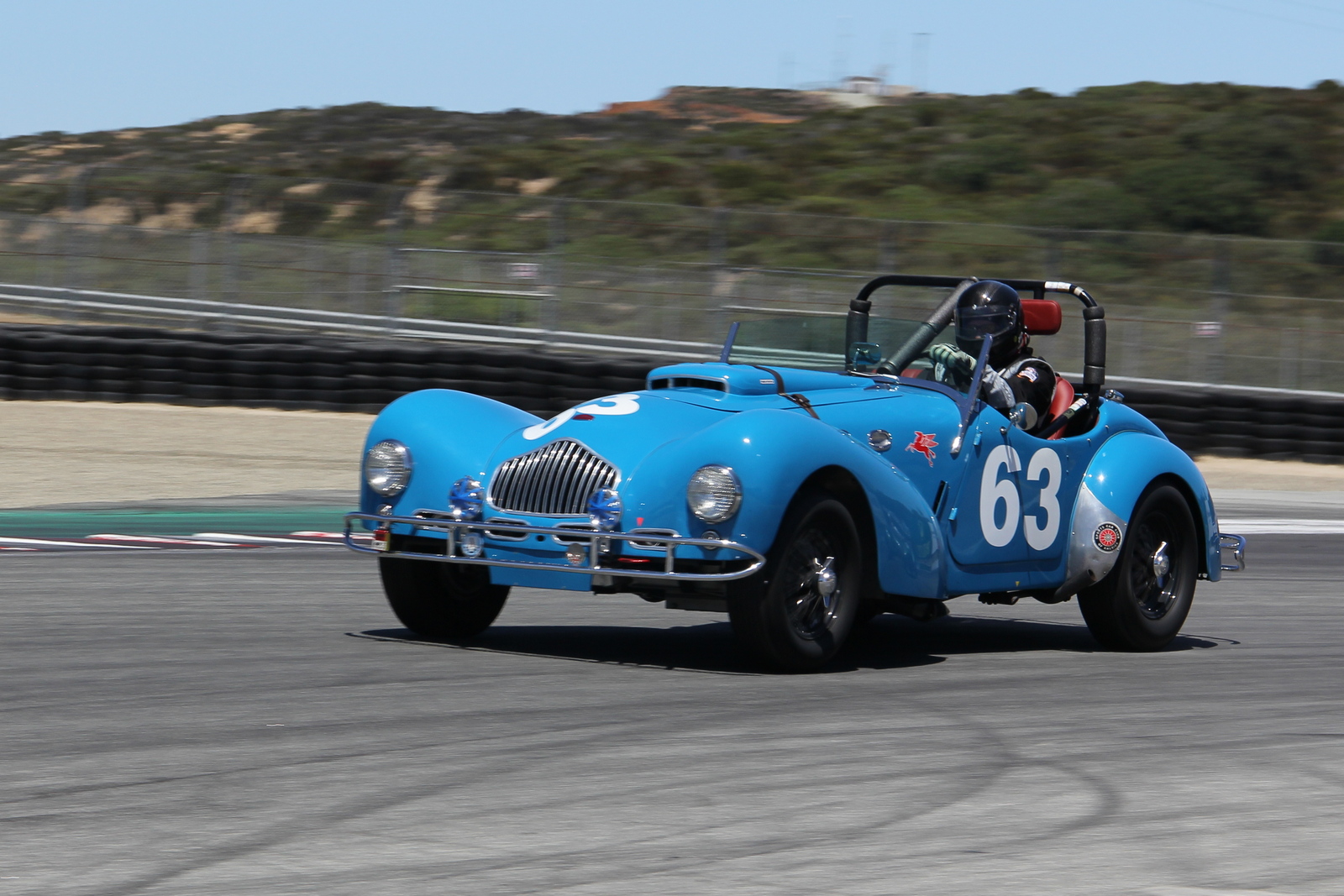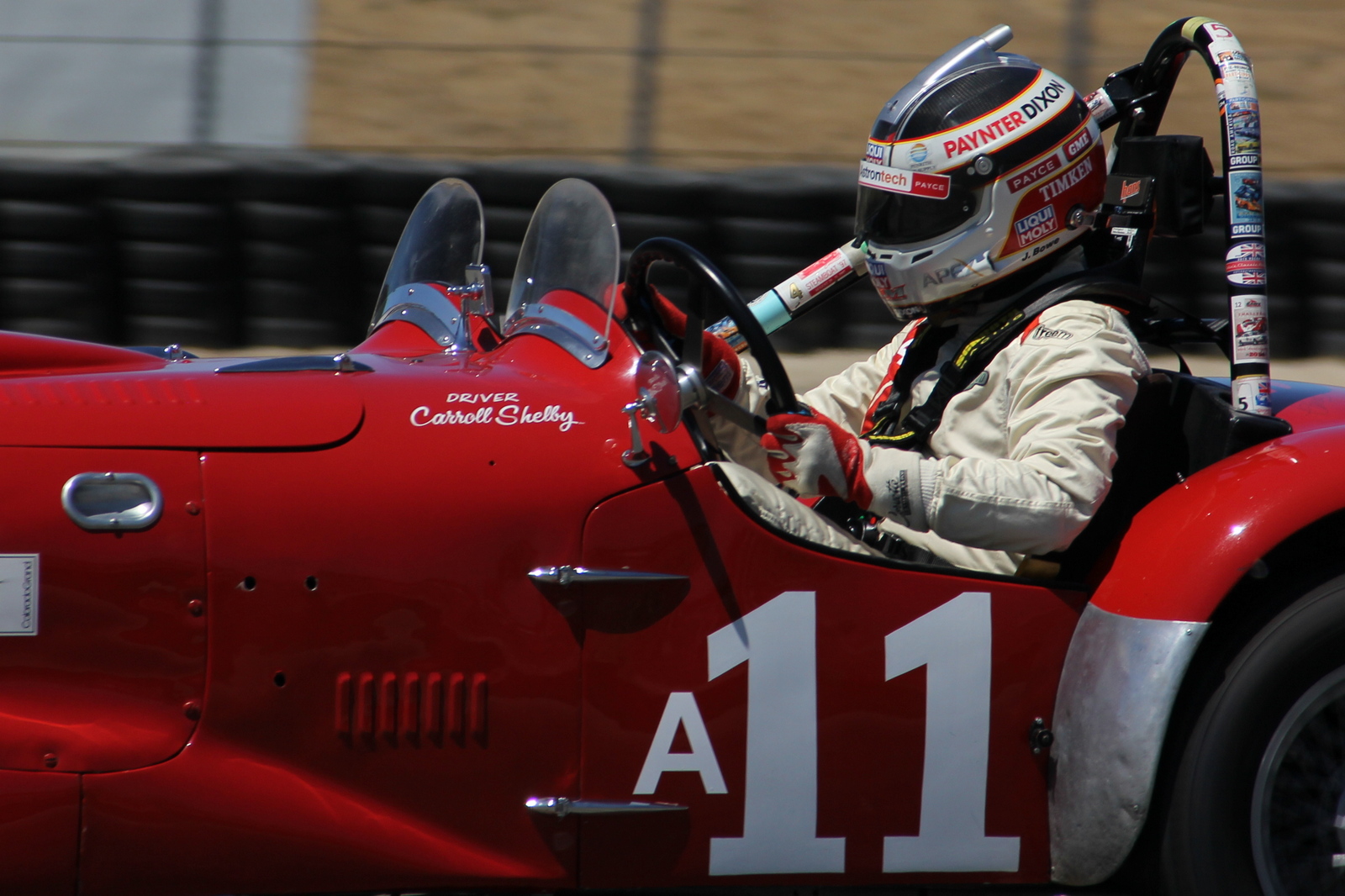 Four Allards made up a part of the thirty-car race group 1B for 1947-1955 Sports Racing and GT Cars. The Allards were up against a strong group of California Specials, Jaguars, Mercedes, MG's, Triumphs, Porsches, and a few flyweight H-Mod specials.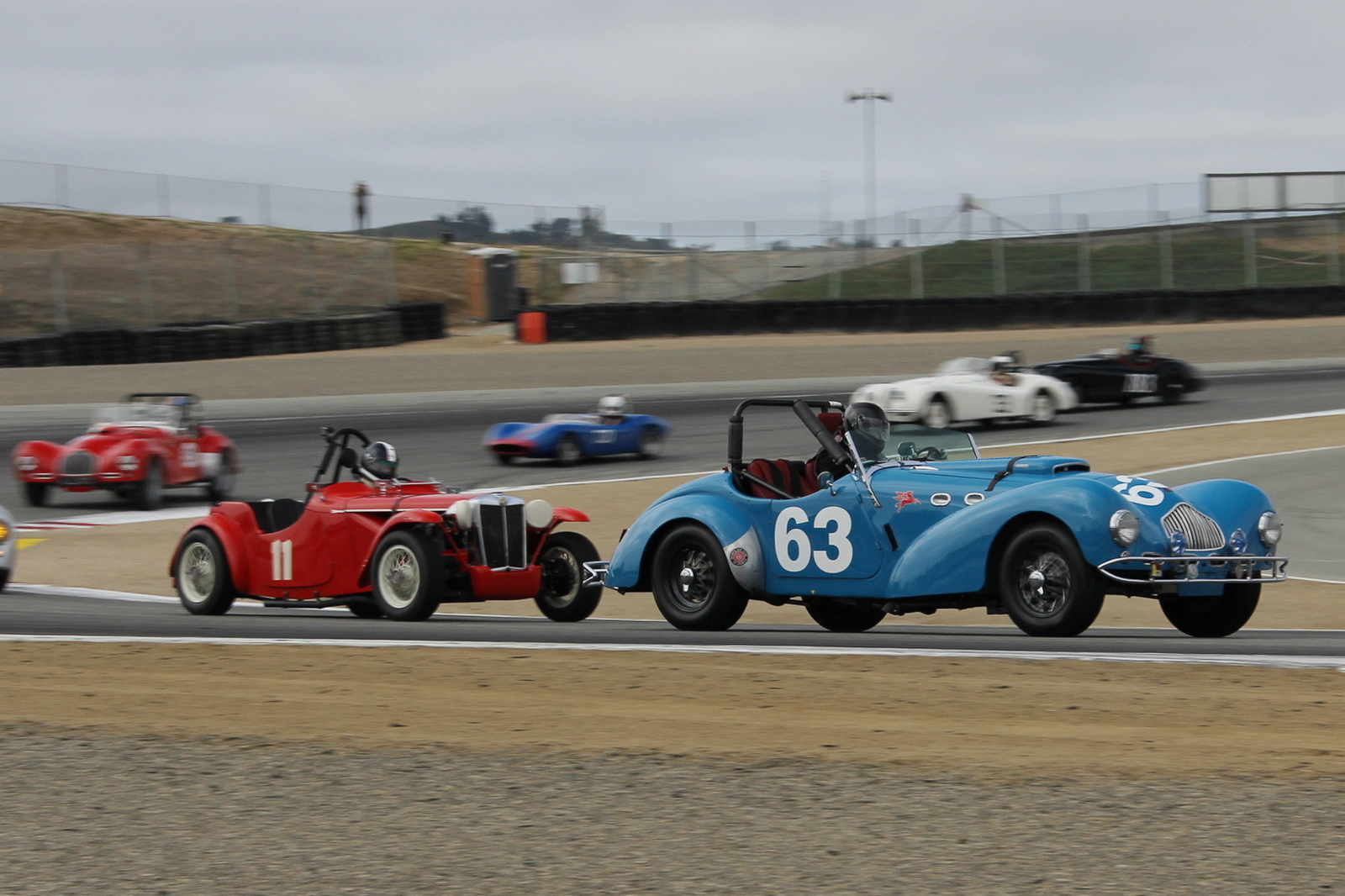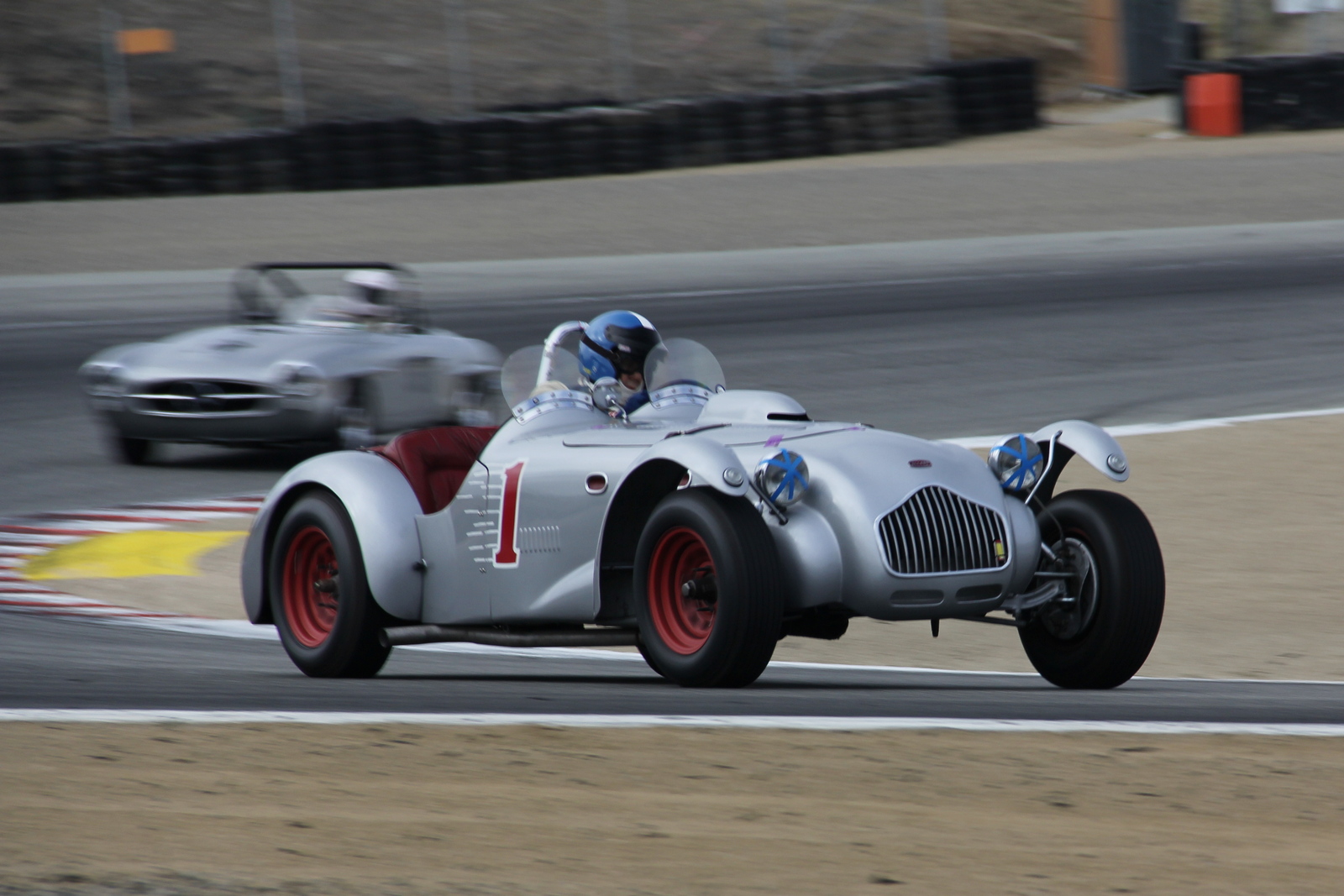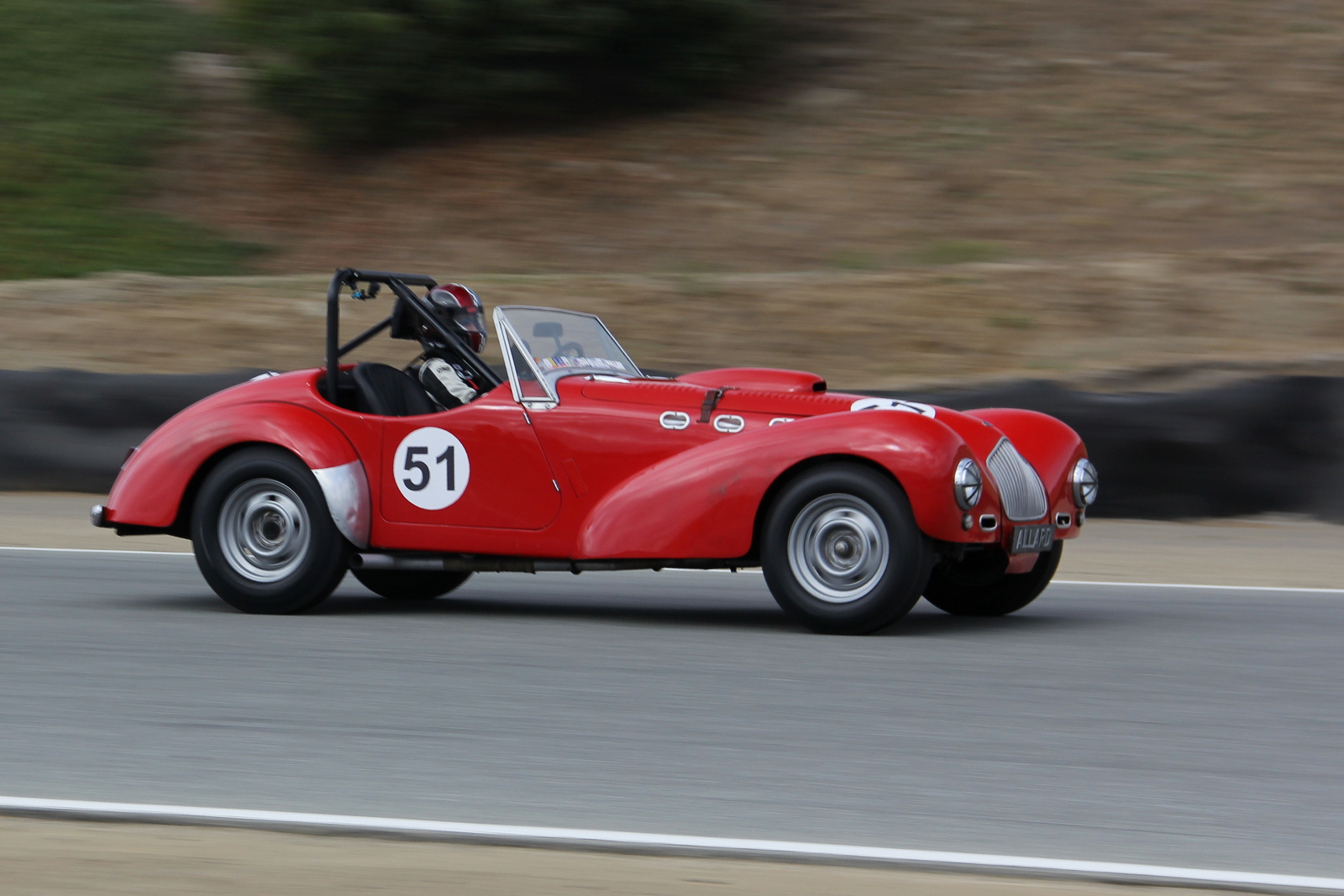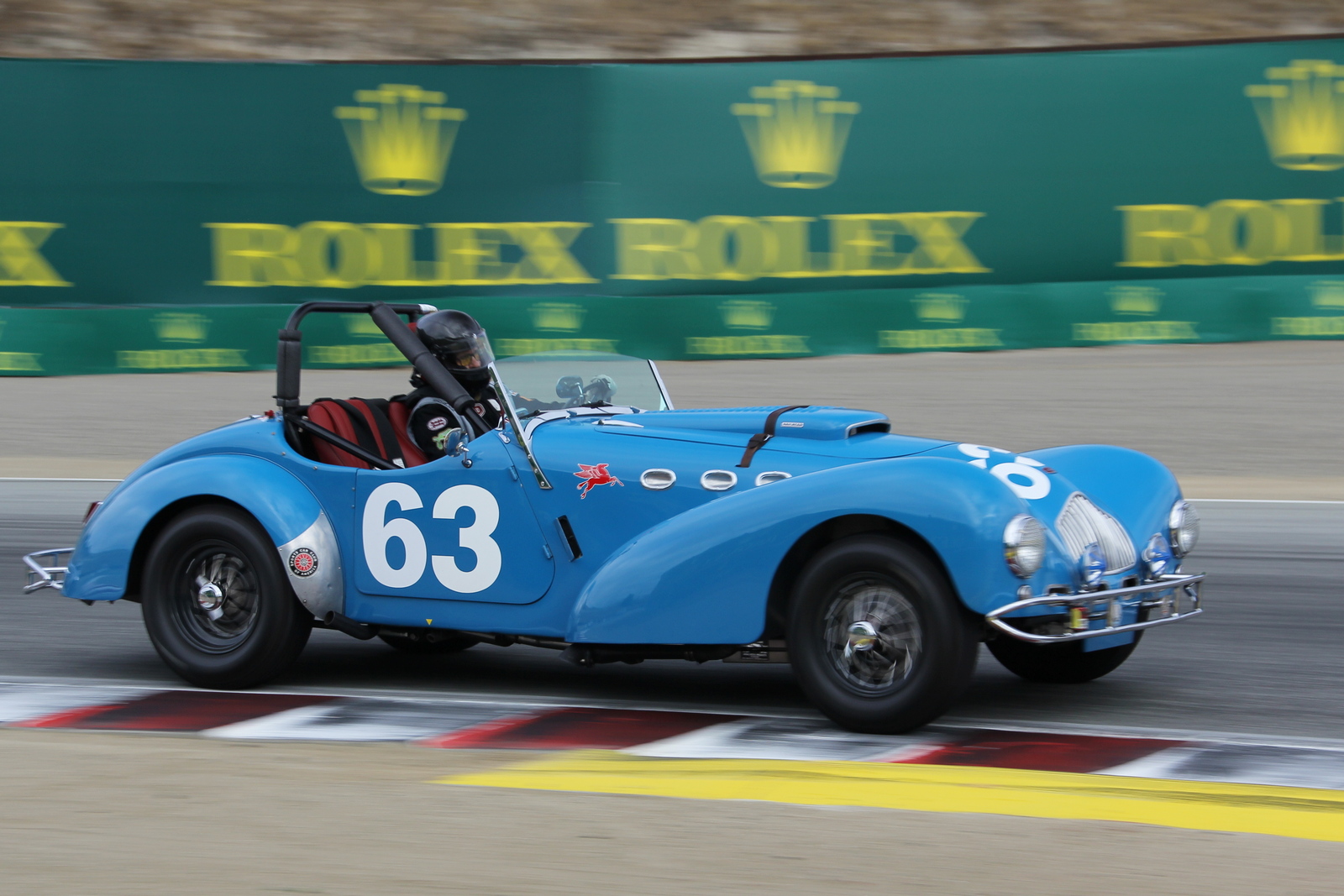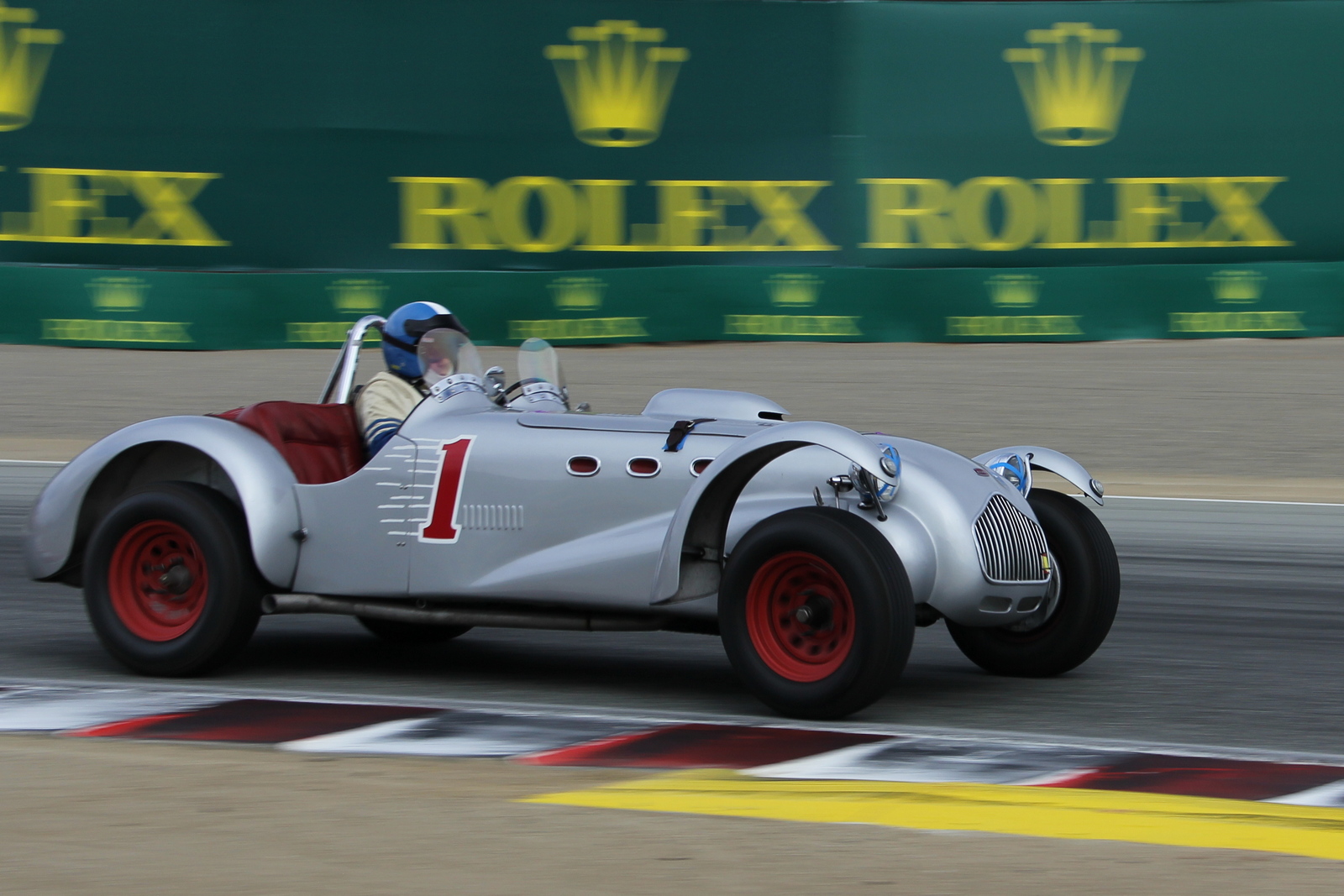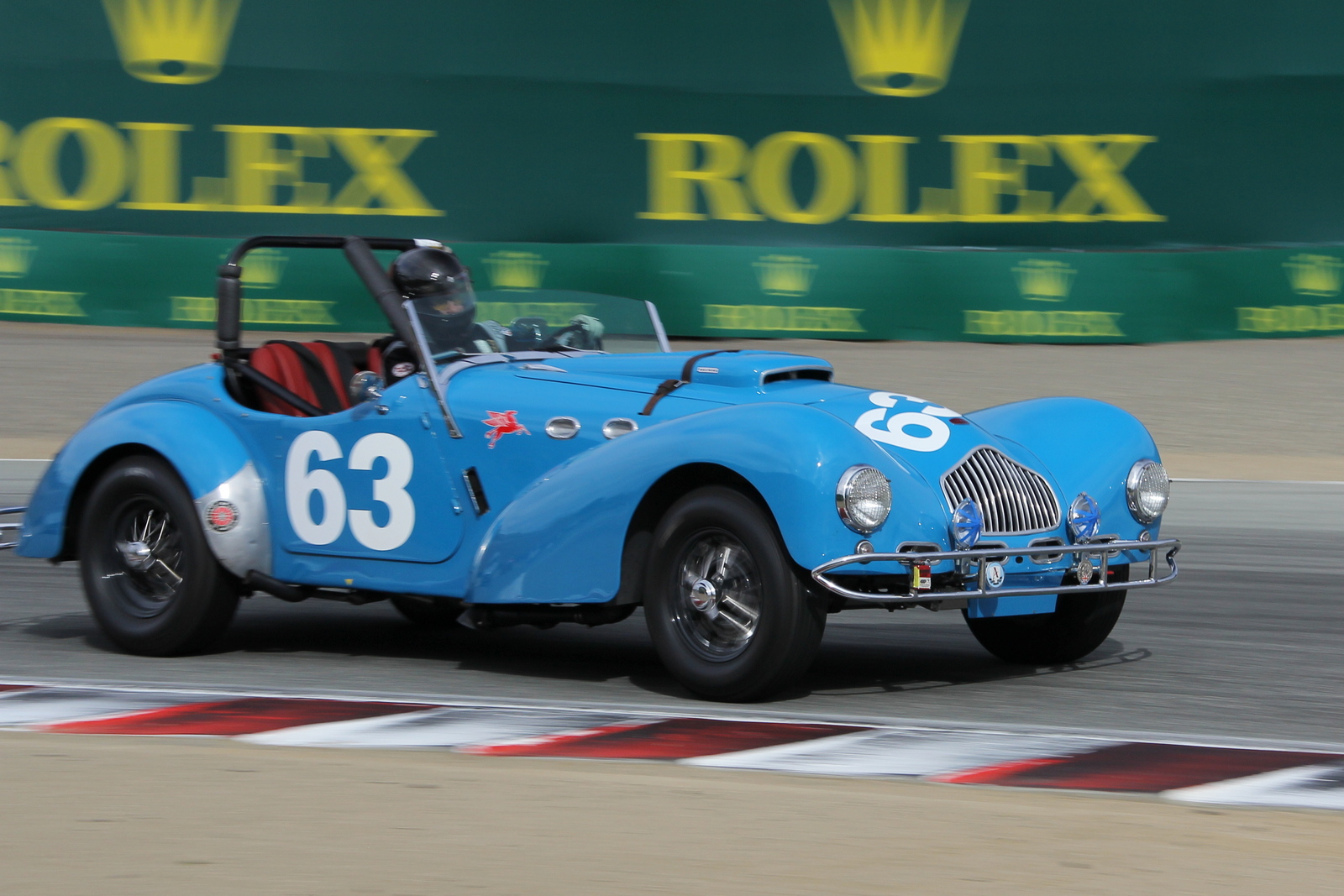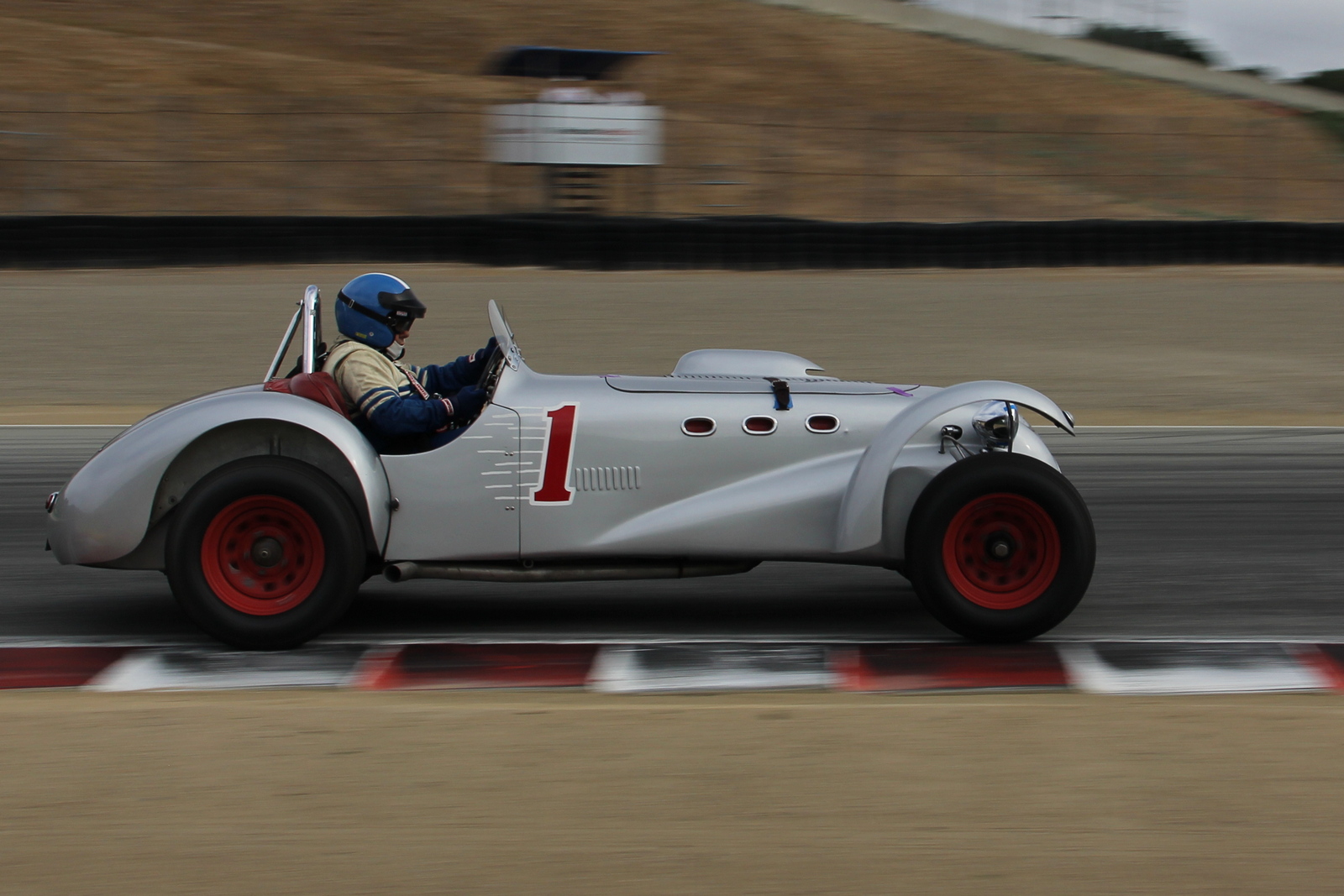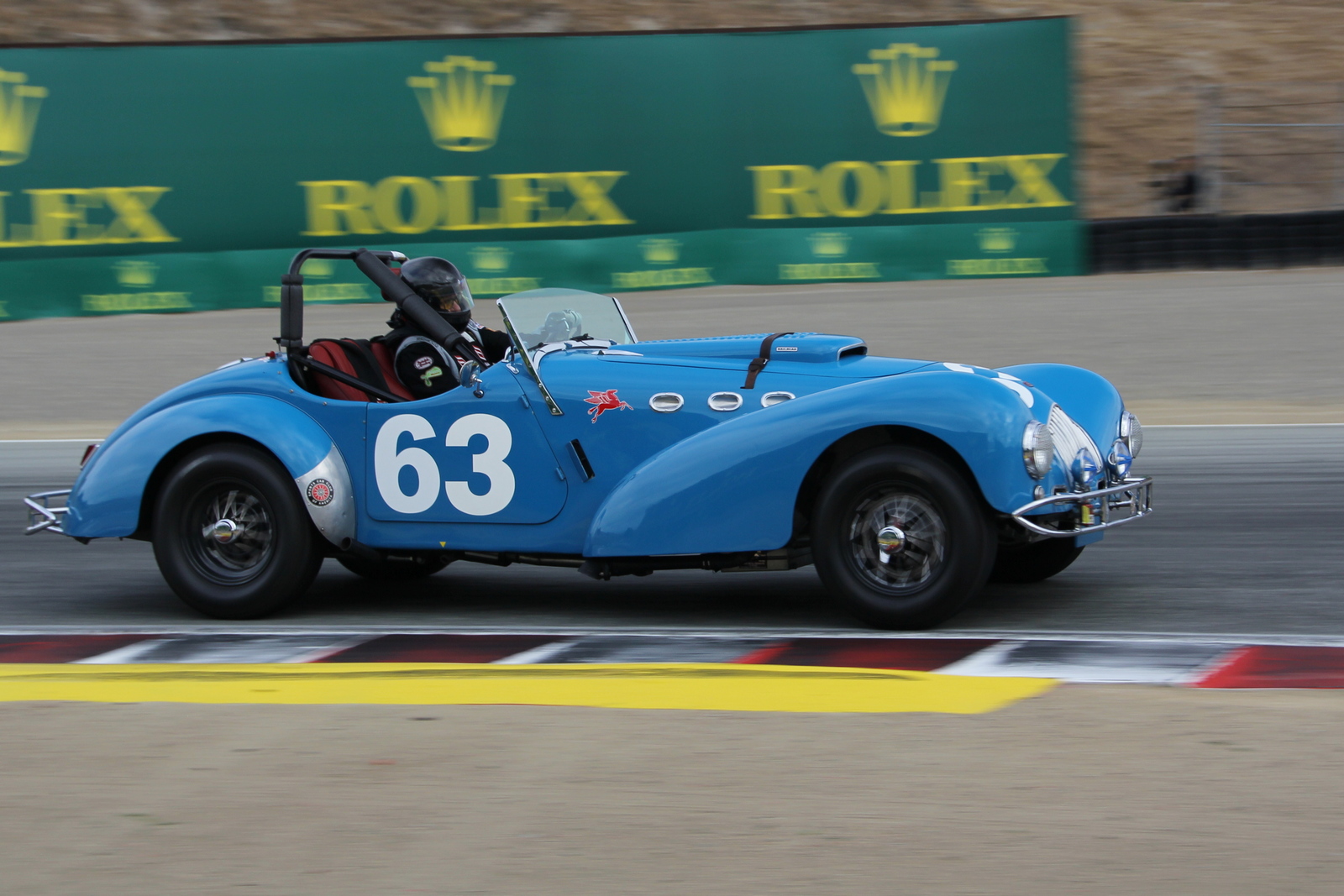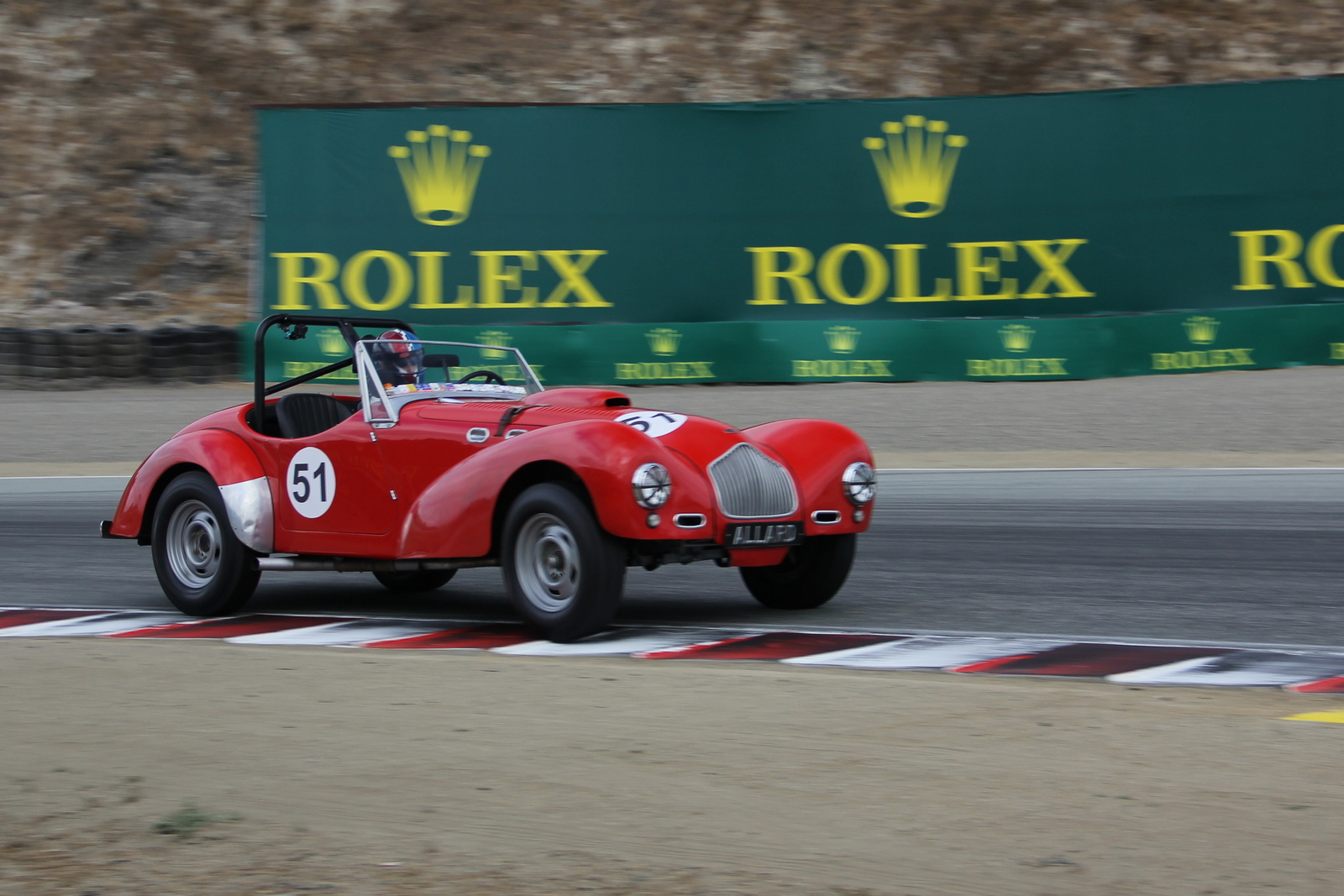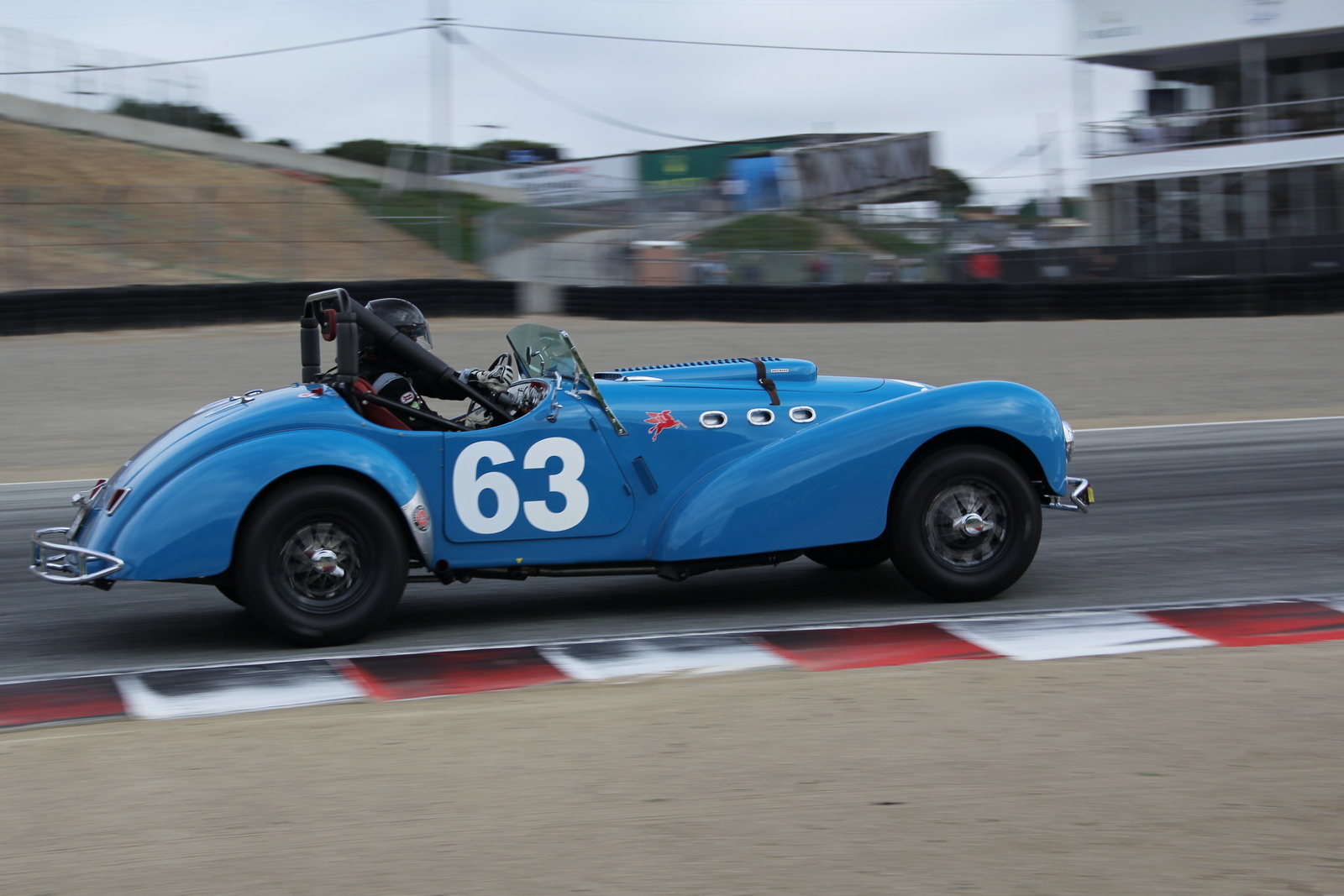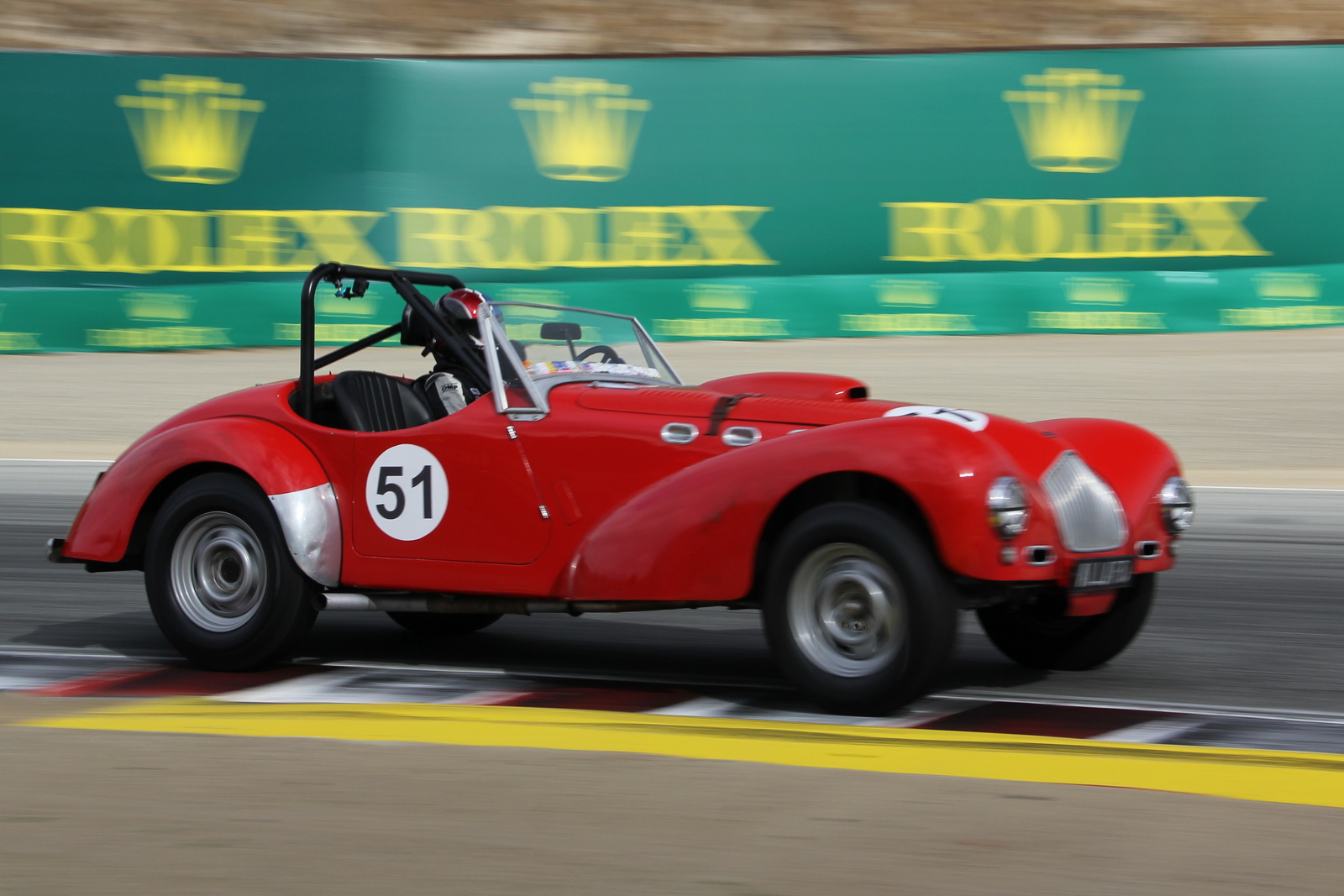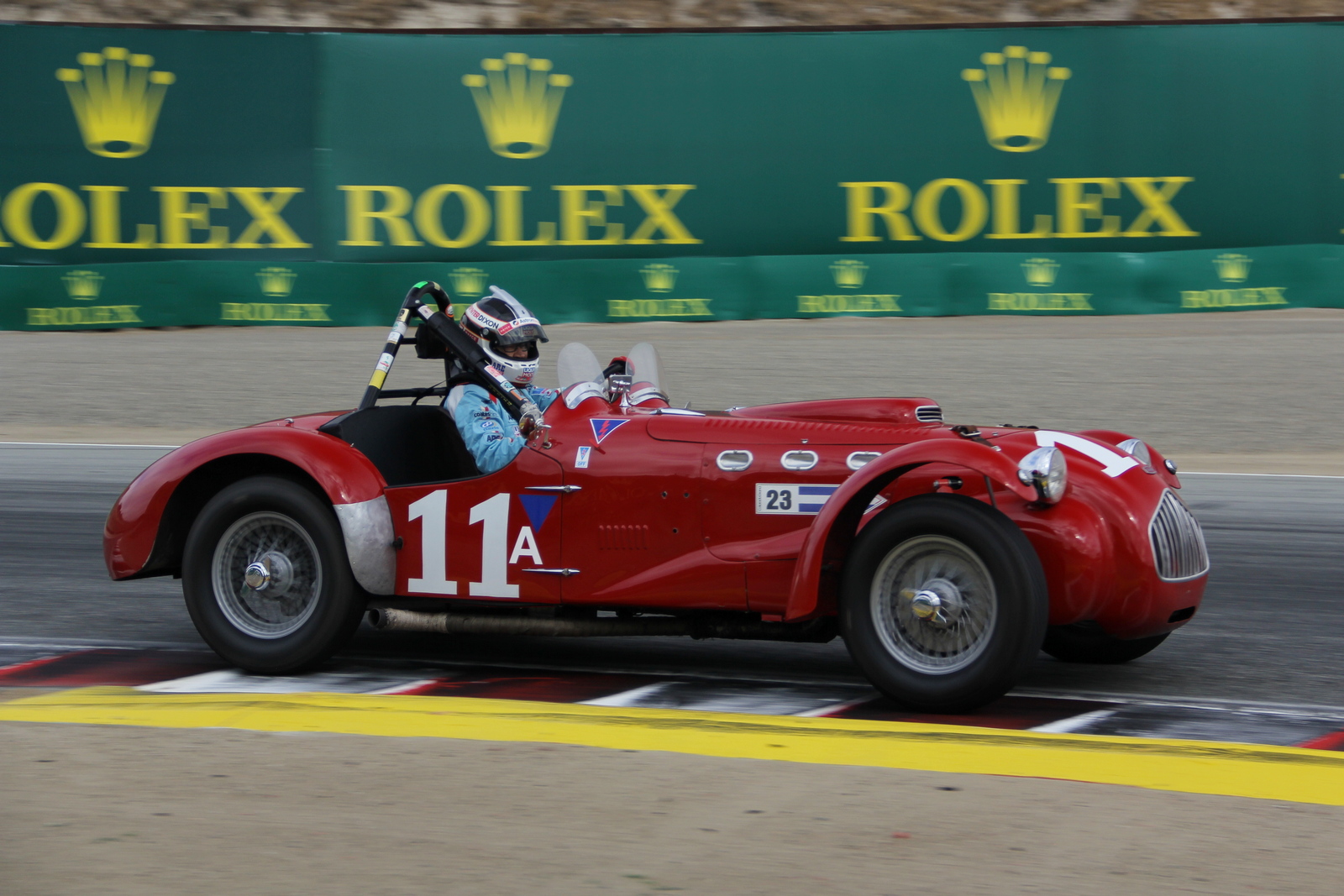 Sunday's morning race was action packed. As the green flag waived, John Bowe rocketed past the third and second place cars and was challenging Rob Manson's GMC Tatum Special for the lead by the first corner! After a few laps of trying to get past the Tatum, Bowe dropped back a few places with fading brakes. John Mote in his Buick K2 held his own starting and finishing 11th. Jon LeCarner had a good race in his K2 moving from 21st to 16th. Bernard Dervieux put on a show in J2-1513 (one of the first J2's built) demonstrating the finer points of Sydney's divided axle front suspension finishing 26th.
Sunday's afternoon race was another thriller. While two of the race's nine laps were run under a full-course yellow, drivers and fans were treated to a tight contest among the five leaders – the Allard J2X against four California specials; the Parkinson Jaguar Special, a Chevy-powered Austin Healey, a Kurtis Dodge, and the Streets Manning Special.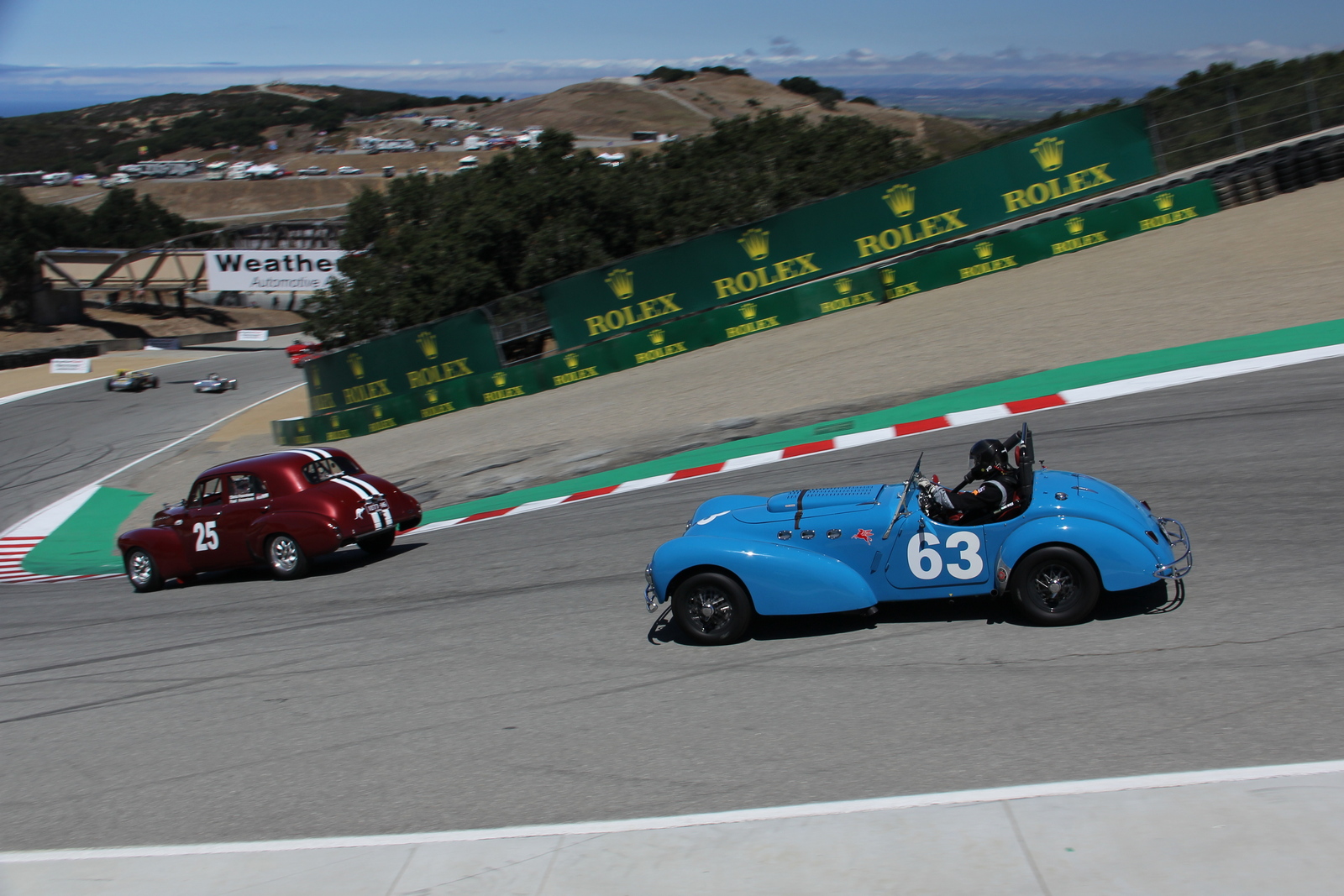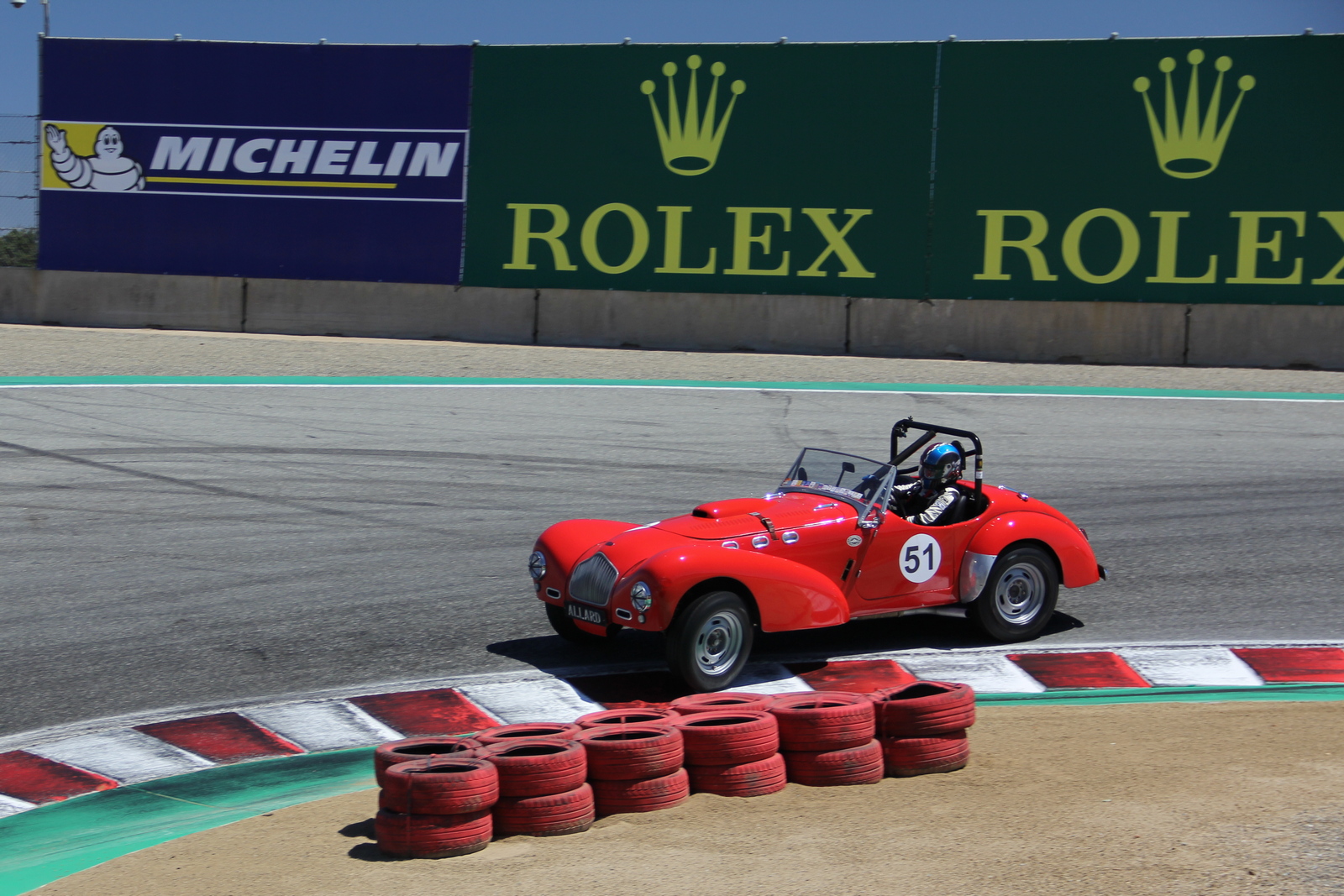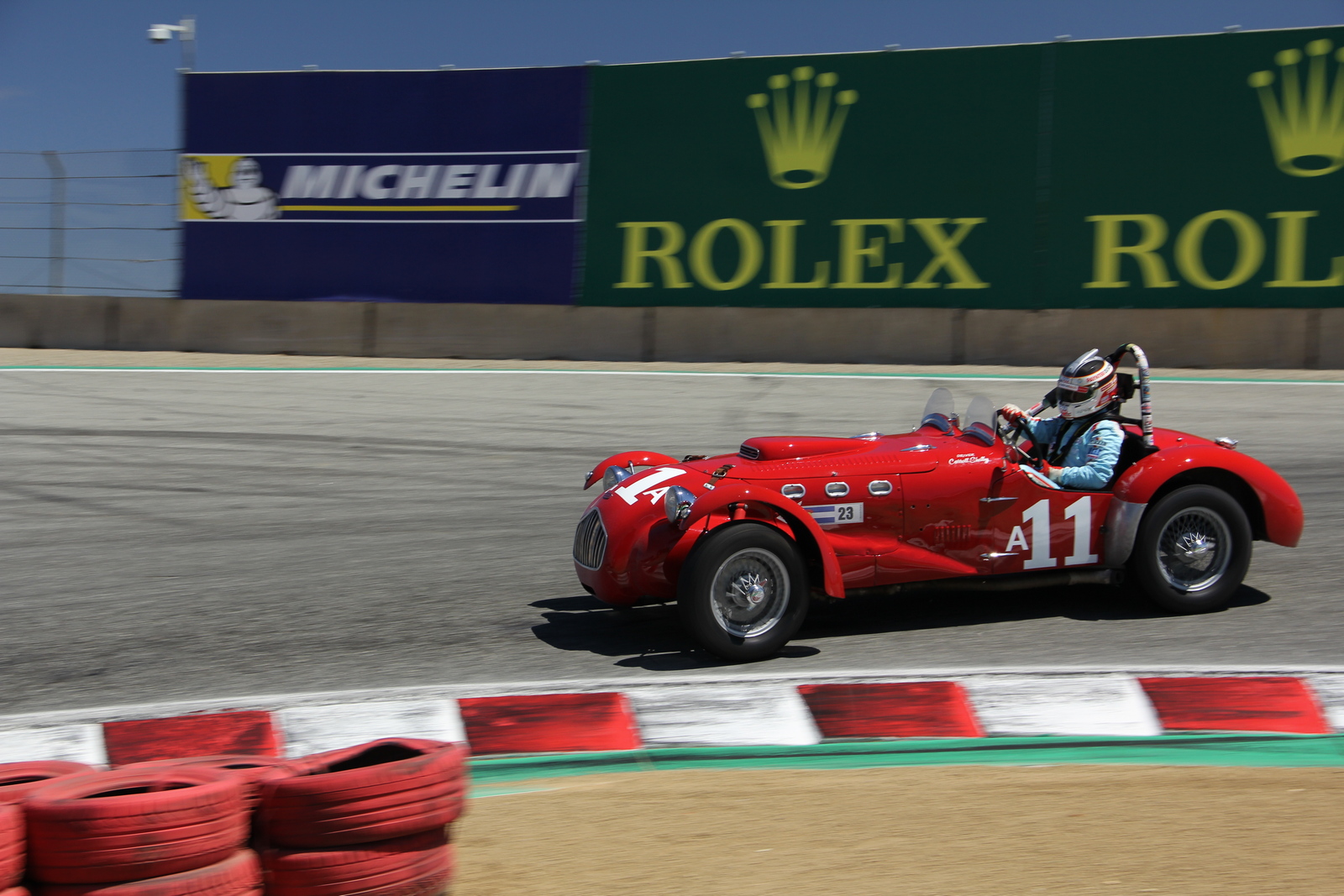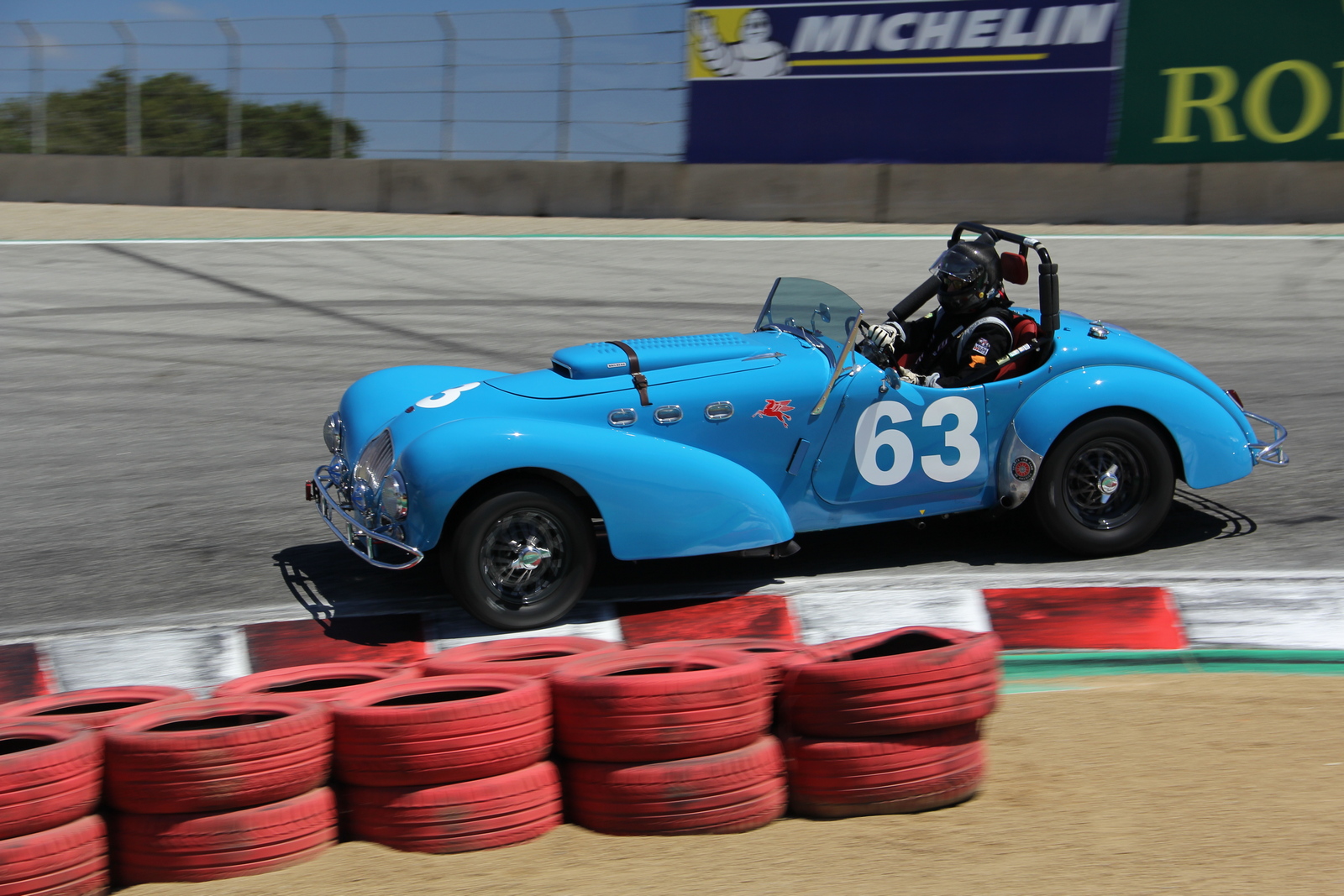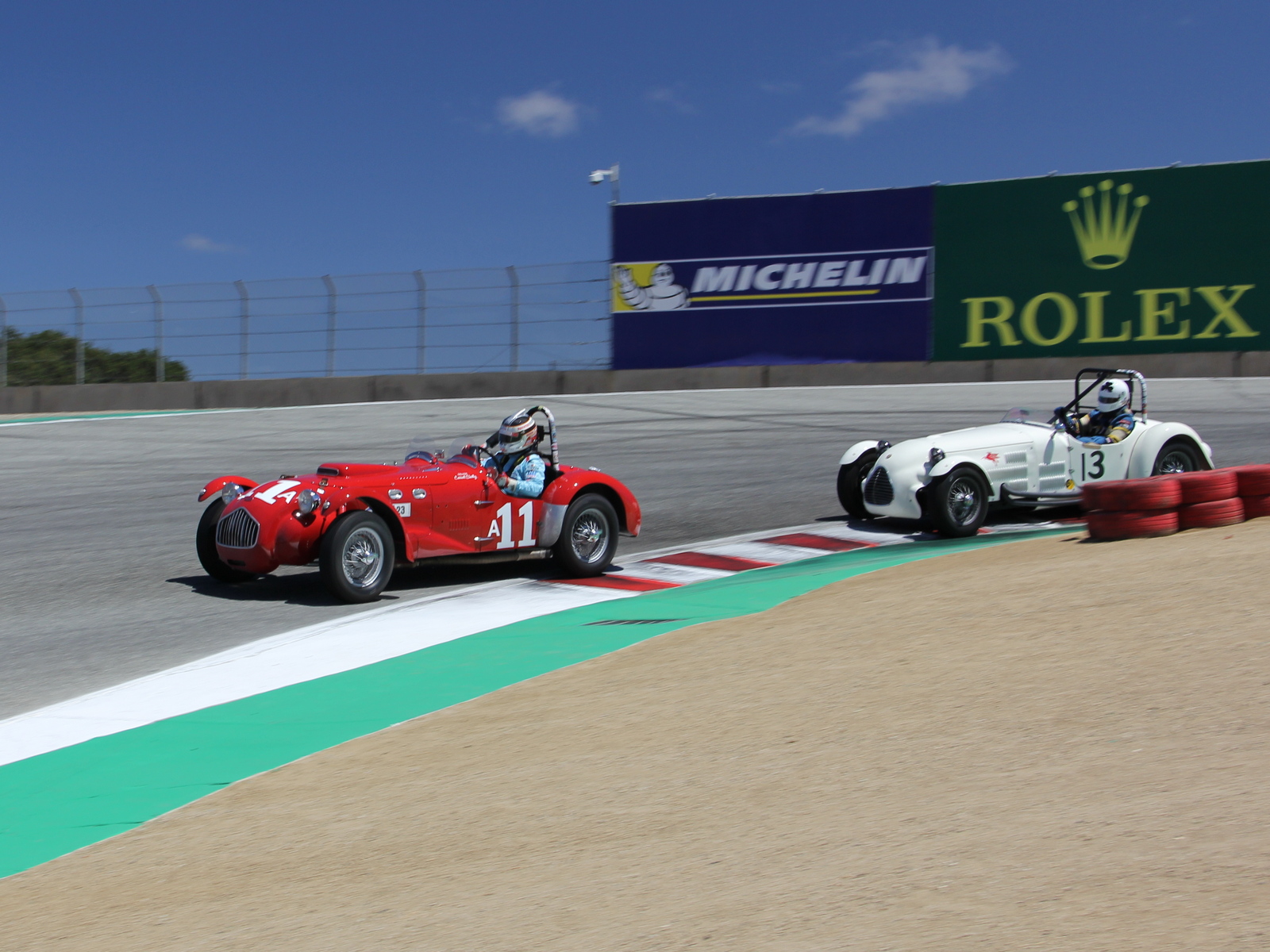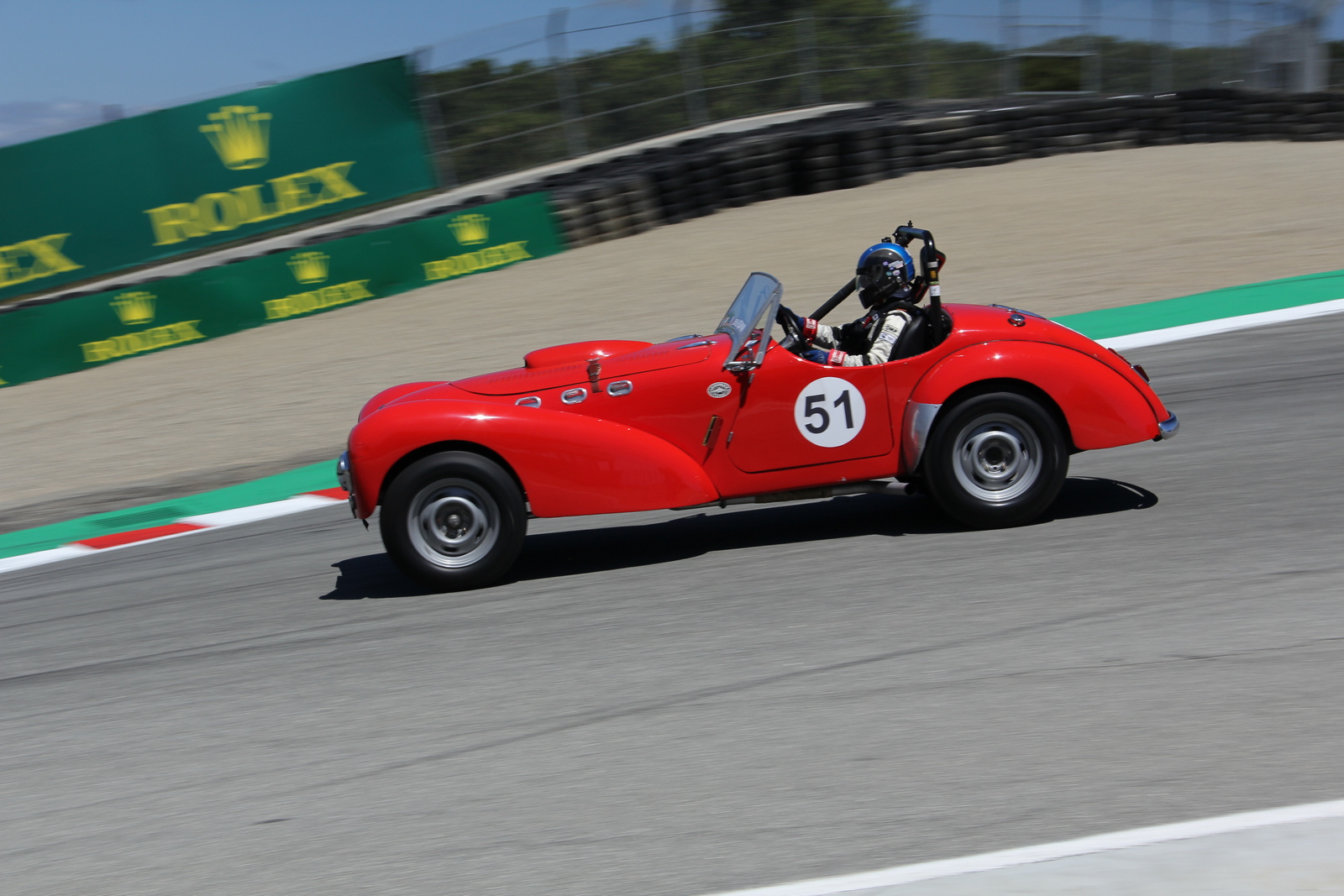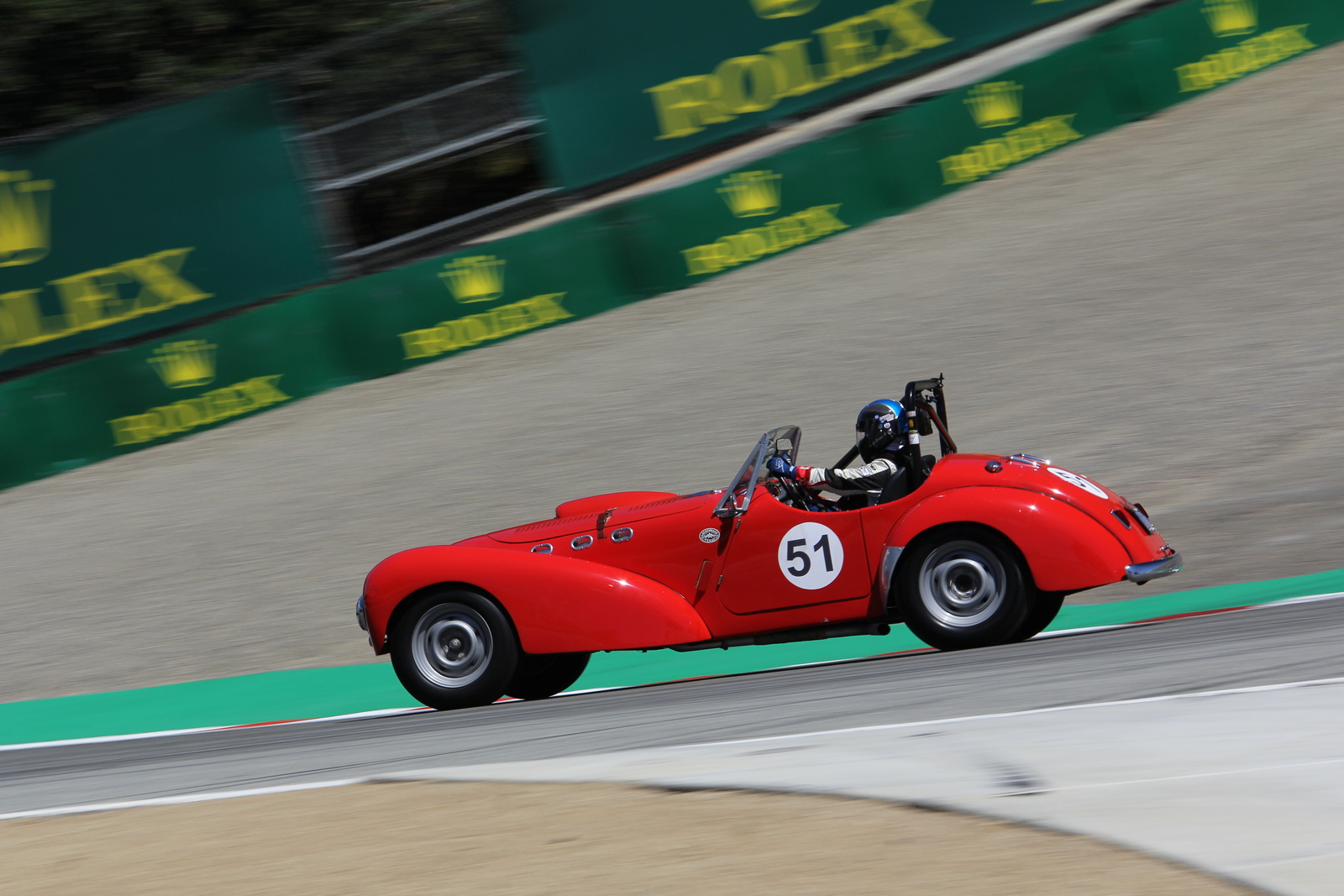 John Bowe of Melbourne Australia was first to take the checkered flag at the wheel of Joe Calleja's Allard J2X-3146. This is the very same ex-Carroll Shelby Allard that has been a familiar sight at Laguna Seca for the past 20+ years at the hands of Peter Booth and Augie Grassis. Joe has been working diligently to bring this Allard into FIA specs, with plans to race it in Europe and Australia in 2020. Driver John Bowe has some previous racing history in Australia having won the infamous Bathurst 1000 twice; needless to say, Shelby's old J2X was in good hands. The J2X had a close race with the Parkinson Jaguar, but in the end the John Bowe made it to the checkered flag first - another Allard victory!
John LeCarner finished in 15th spot with his Cad-powered K2, and Bernard Dervieux's J2 crossed the finish line in 23rd place. John Mote ran strong until lap 5, when his oil pressure gauge suggested that he prudently 'call it a day'. All three cars will be undergoing refurbishment over the next year and we hope to see them back on track in 2020.
The Allards were pitted among a wide array of cars of similar vintage. Foremost in this group were a number of California-engineered built by names like Hagemann, Tatum, Baldwin, and Kurtis – cars that were not only fast, but quite able to hold their own on road courses against the sophisticated cars from post-war Europe. One could argue that many of the California Specials owe their existence to the production hot rods built by Allard.
The cars of Group 1B have adopted the moniker, Del Monte Trophy Race Group – cars that either raced in the Pebble Beach Road Races in the early '50's, or would have been eligible to have raced there.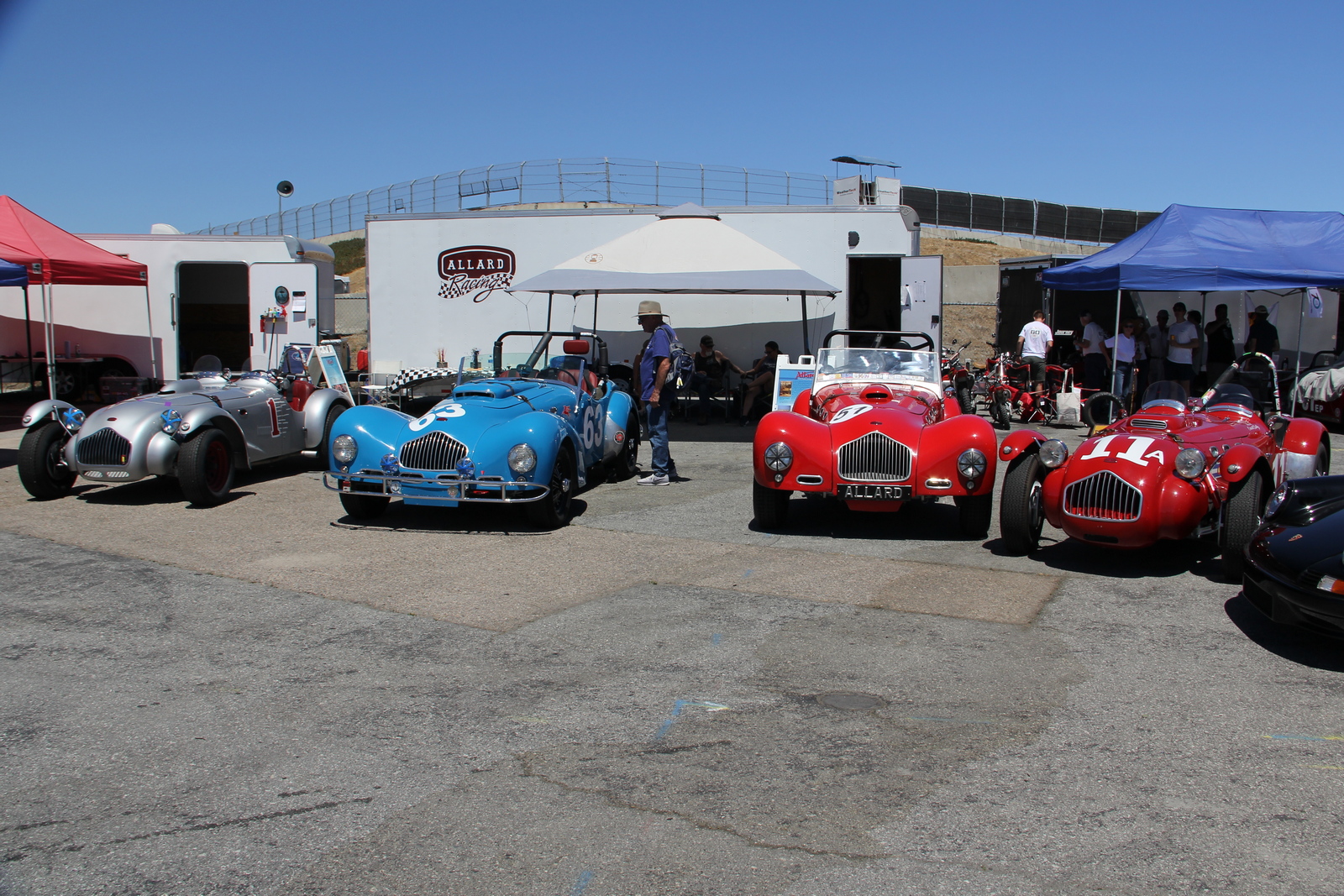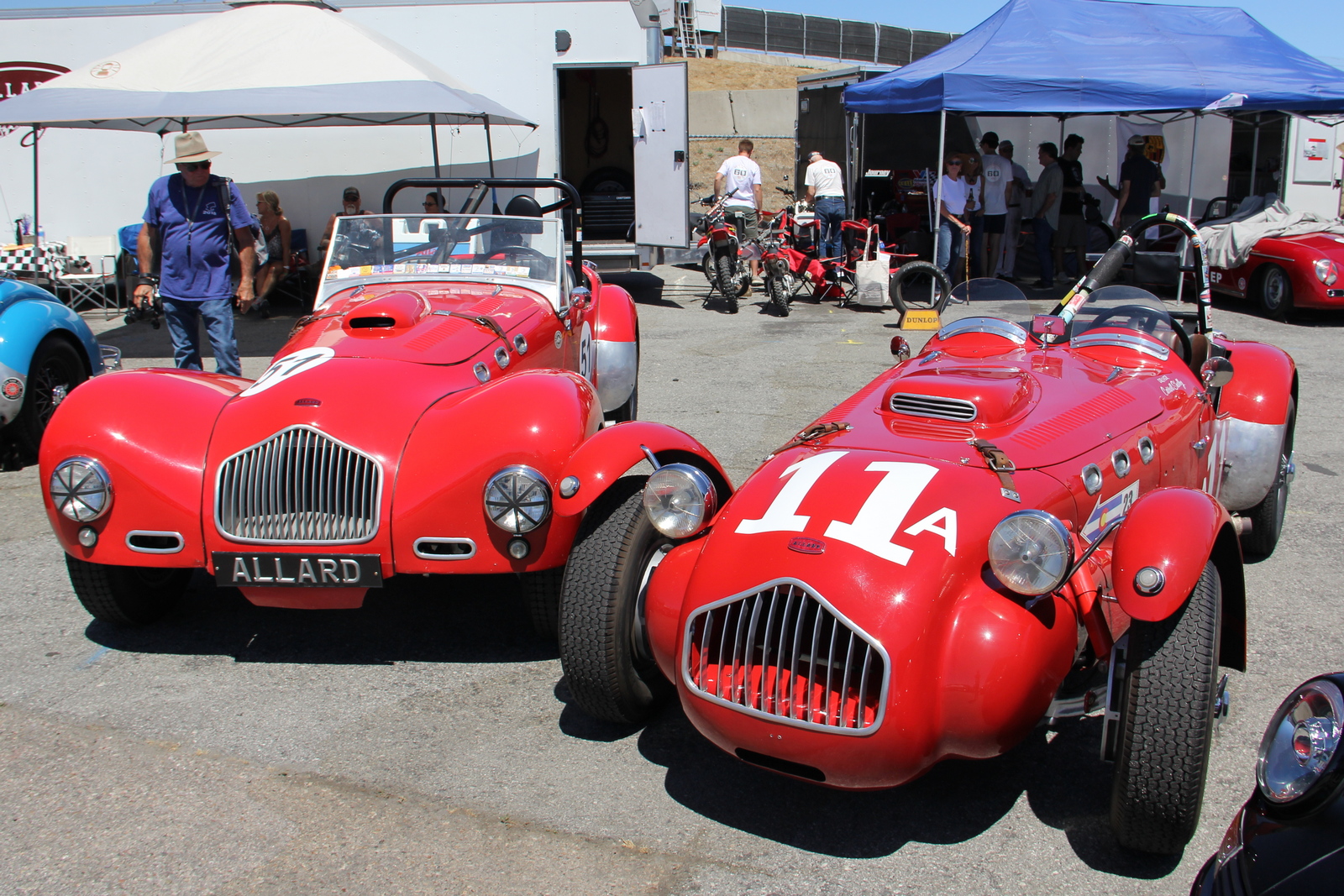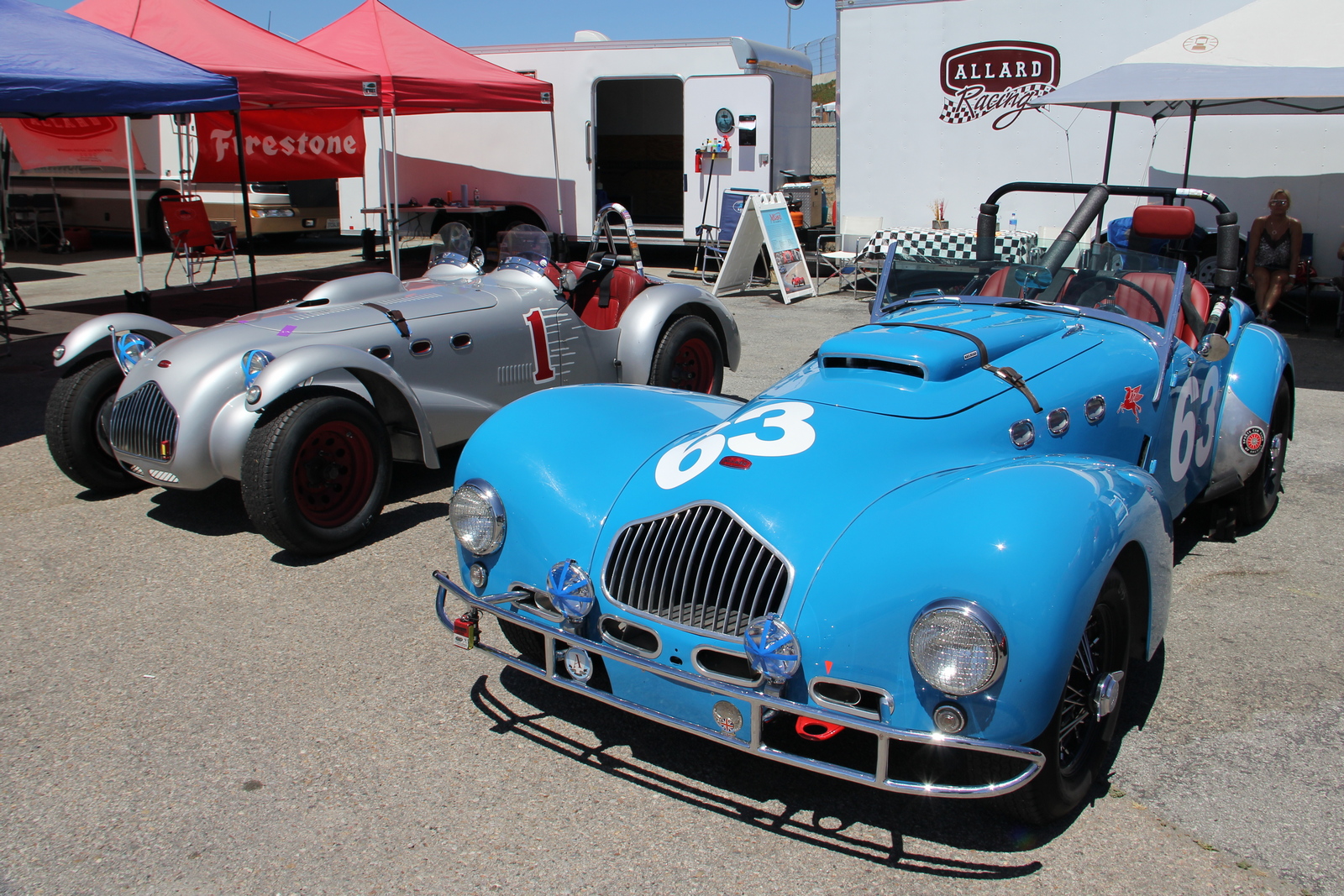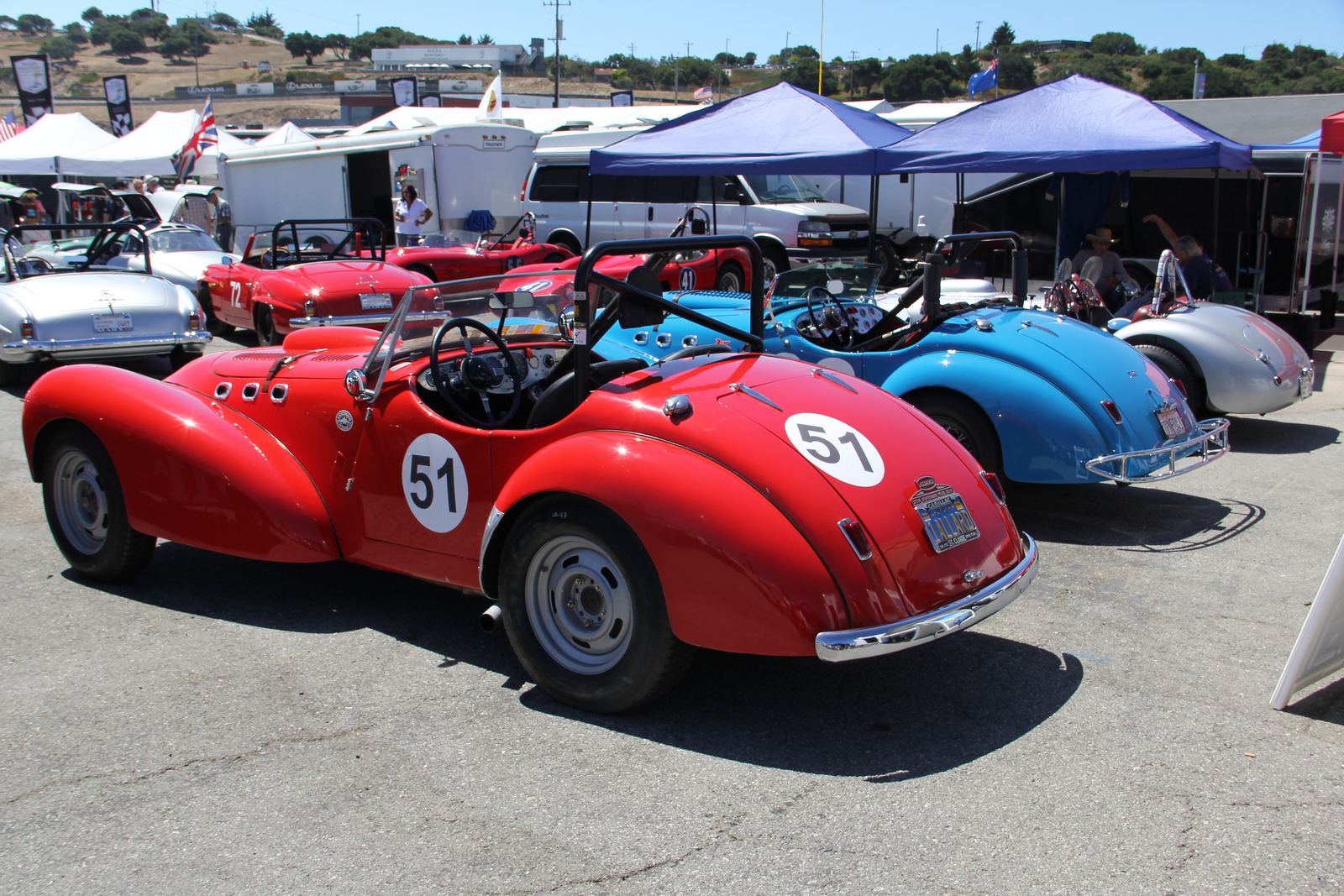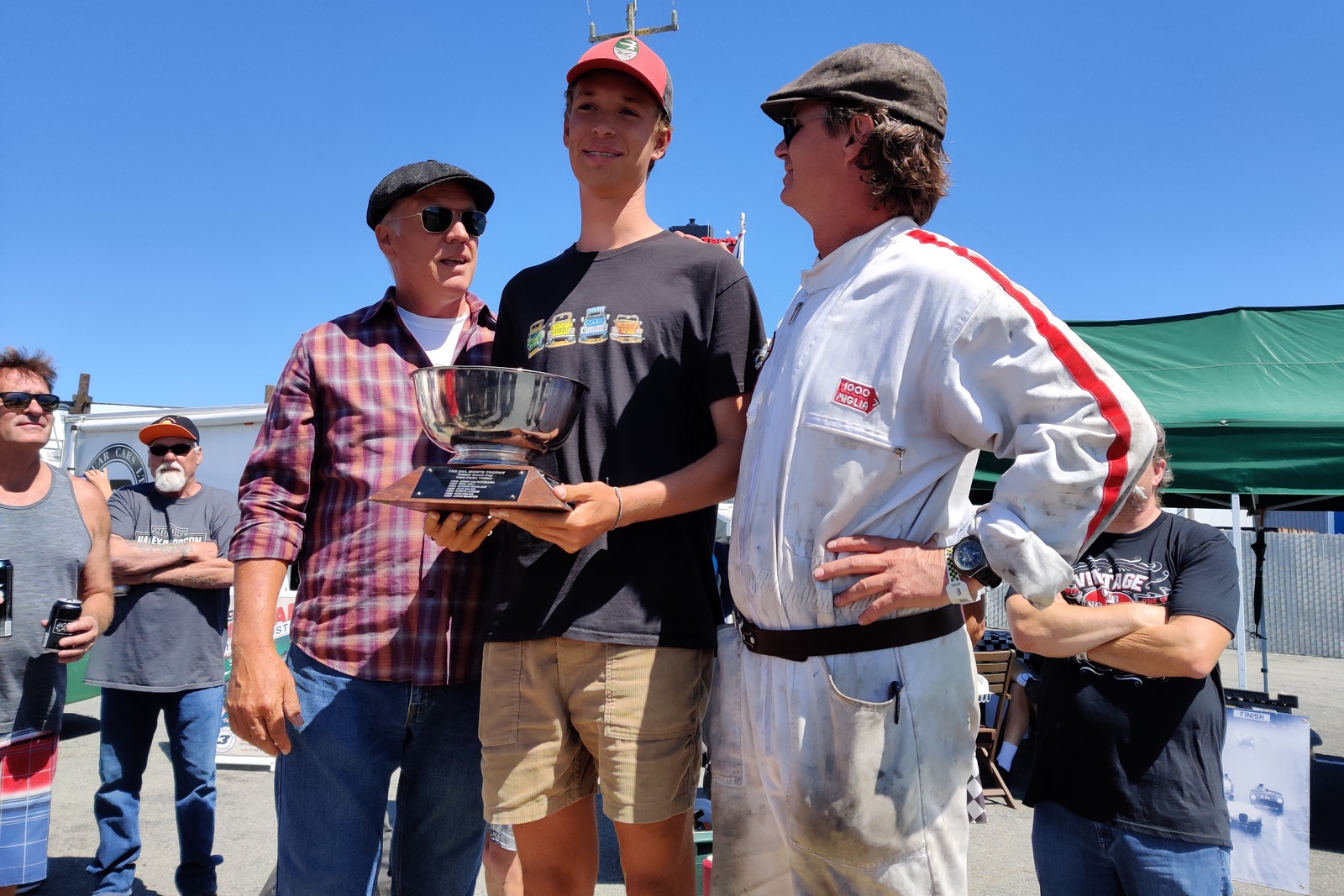 The entrance to this paddock area is fittingly decorated with rows of snow fencing and hay bales which were deemed to serve as protection for spectators back in the day, along with several historic black and white race photos from the early '50's. This provided an ideal setting for a gathering after Friday afternoon's practice, with all 38 cars from Group 1B on display. A more casual affair was held Sunday afternoon where the Del Monte Trophy was awarded to Tim Barnes (over 2L) and his 1951 Jaguar XK120 and to Kaiden Marouf (under 2L) and his 1951 supercharged MG TD.
Monterey's 'Car Week' formally starts with Thursday's Pebble Beach Tour d'Elegance, when more than a hundred rare and elegant competitors in Sunday's Pebble Beach Concours d'Elegance embark on a 70-mile tour on public roads around the Monterey area. This provides a unique opportunity for the general public to witness these show cars mix with Highway 1 traffic down to Big Sur, before returning to gather for along Carmel's Ocean Avenue for lunch.
We again welcomed the opportunity to join Martin Allard in his biscuit-colored Allard K3 as we enjoyed the show cars along Highway 1. A part of this included a special surprise to see Ted Springstead at the wheel of his green Allard K3. Ted was one of the thirty Concours entrants to participate in the ten-day, 1500-mile Pebble Beach Motoring Classic run from Kirkland Washington to Pebble Beach. Aside from a minor fender-bender along the way, it was a great and memorable trip.
Three Allards were 'on the block' at two of the six (yes – 6!) auctions underway during Monterey's Car Week. The Carroll Shelby J2 from his 1952 racing season was for sale at Mecum's, and two Allards were consigned to Goodings. One was the red, Chrysler-powered J2X LeMans veteran of the Pebble Beach and Golden Gate races in the early '50's, and the other was a very nice black K2. Neither the J2 nor the J2X LM made their reserve, while K2 was sold for a very reasonable $84,000.
We're looking forward to 2020 which will celebrate the 70th anniversary of the Pebble Beach Road Races. We hope to see you there!