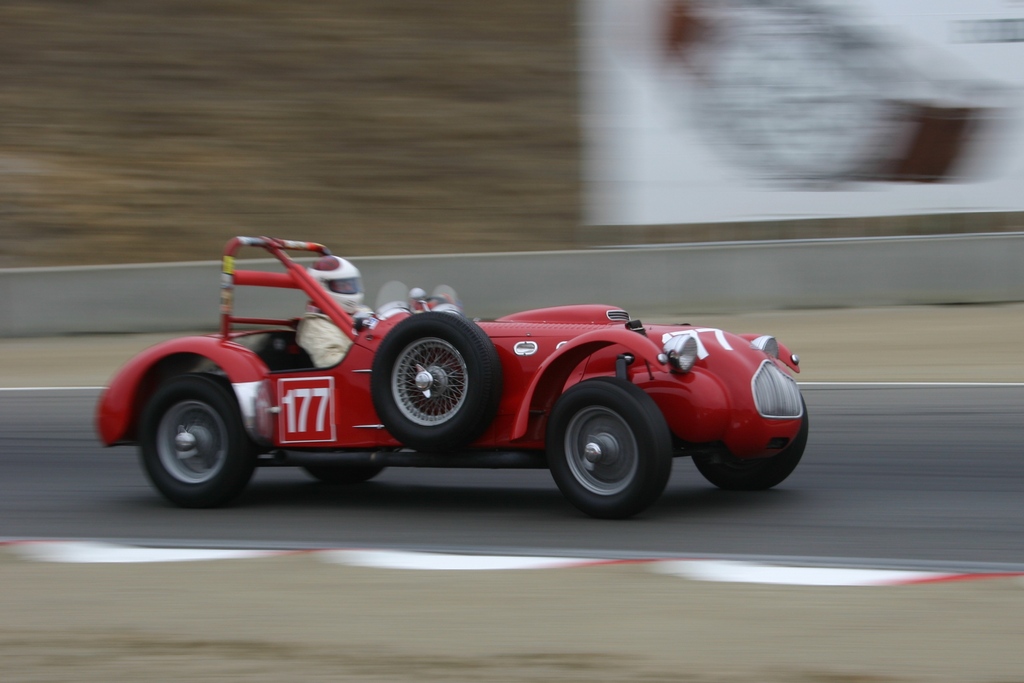 It's with a heavy heart that we say goodbye to Alan Patterson, an Allard enthusiast of the highest degree. Alan was one of very few Allard owners that could say that they were an original owner. Allard acquired his first Allard, J2X-3072 from Motorsport, Inc. out of Pittsburgh, PA in 1952. He actively raced this car from new, running at Watkins Glen starting in 1954 and then over the years all over the world (see video from Alan racing at Monte Carlo below). Although Alan has owned and raced several other cars over the years; Allard's were always his true love. In addition to 3072, he has also owned another J2X, a J2X Le Mans, and most recently a Clipper and Sydney Allard's GT Coupe which he raced this past year at Monterey. On Friday of race weekend, I had the pleasure of driving around the Laguna Seca roads with Alan in the GT - I even got stuck in the car for 20 minutes after the door latch on my side failed - requiring me to contort my way over the roll cage and through the drivers door - much to the delight of Alan!
In addition to being an Allard enthusiast, Alan was a great guy. He was always happy and ready with a story. At the races, he was always putting around the pits in his green Mini Moke - he even loaned me the keys a few times to take my family around Laguna Seca.
One of Alan's greatest achievements was co-founding the Pittsburgh Vintage Grand Prix in 1983. Over the years, the PVGP has raised over $4 million since then...a fact that brought a lot of joy to his heart. Racing must be a genetic trait in the Patterson Clan. In 2016, the Patterson family boasted six family members racing in the PVGP!
Alan was 85 when he passed on June 30. Plans for Alan's Memorial Service are still being finalized. We hope to post a more formal remembrance as more details are known.
Cheers to you Alan and I hope you are having a blast racing the Guv'nor up there!