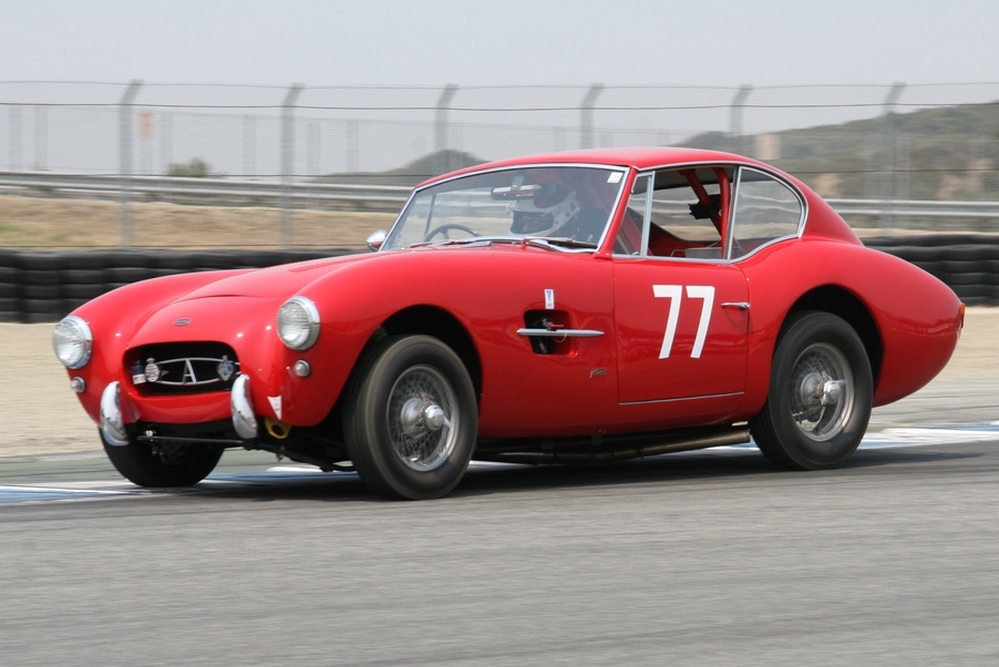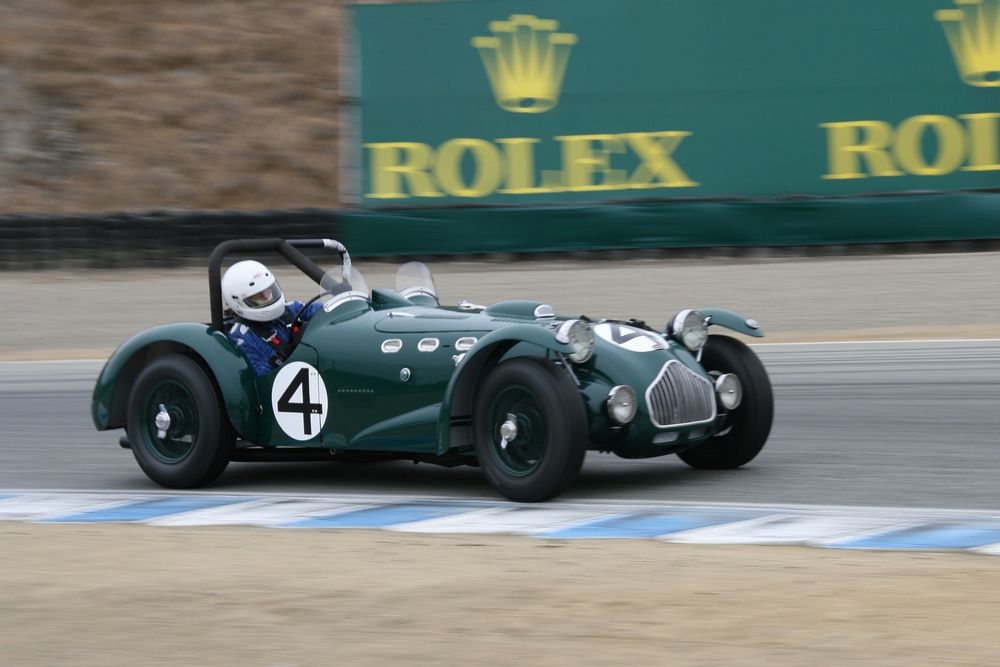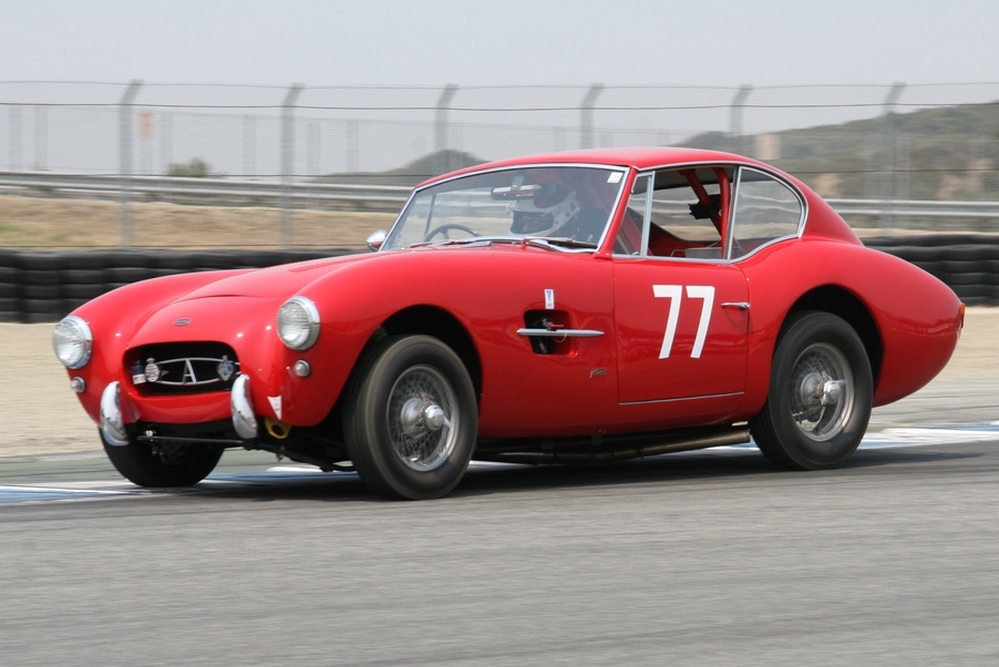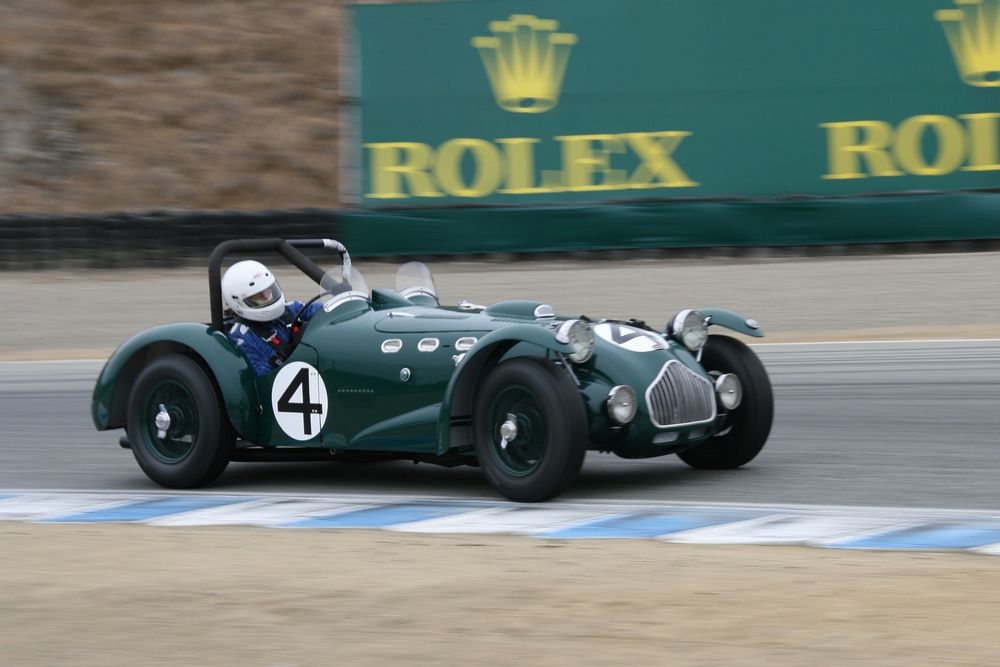 Eight years have passed since vintage racing enthusiasts have been able to witness as many as six Allards gracing the field of the Monterey Historics/Rolex Monterey Motorsports Reunion. Five of the six Allards that made up this year's field have been Laguna Seca veterans over the years – and the sixth was recently imported from England.
All 15 groups' Practice & Qualifying sessions were on Friday, and the Group 1B (Sports Racing and GT Cars 1947-1955) race took place on Sunday. That morning's practice session was delayed by heavy fog, which left the field stranded on the grid for almost an hour while the pace cars made reconnaissance laps before practice could commence.
This caused some minor disruption to the starting grid where Steve Schuler found himself bumped down from third to eleventh spot for the afternoon race. However once the green flag fell, Steve steadily worked his Cad-powered J2 up through the field to a third place finish. We still have vivid recollections of the first time we saw Steve's J2 in 1990 – essentially a burned out and drilled out hulk sitting on a trailer in the Laguna Seca paddock. A true inspiration to folks who might feel their 'basket case' is too far gone to rebuild. On a side note, Steve and his J2 were featured prominently on a wall sized graphic inside the Rolex Drivers Lounge.
Eleventh place finisher in Group 1B was Jon LeCarner at the wheel of his Cad-powered K2 – the very same red K2 that Jim Degnan raced at Laguna Seca and other west coast venues for 20+ years. Jim, incidentally, was a part of Jon's 'pit crew' during the previous week's 'Pre-reunion'. It was great to get together and swap stories about the 'good old days' with our old friend.
Vince Vento was at the wheel of his ex-Fred Warner Cad-powered J2X that he brought all the way from Florida. Vince acquired this historic Allard a few years ago, and has been having fun with it ever since; running the Colorado Grand, showing at Amelia Island and racing at Road America.
A familiar looking blue K2 caught our eye as we were walking through the paddock area on Friday. This provided an opportunity to meet John Mote, the car's new owner, who explained that he bought his Buick-powered K2 out of its 19 years of hibernation. This was John's 'maiden voyage' – both at Monterey, and in the field of vintage sports car racing. This K2's previous owner, Paul James was a regular participant in the Monterey Historics back in the 1990's. Allard's west coast distributor, Alan Moss, originally purchased this K2 in New York in 1950, and drove it out to Los Angeles (making it one of the first Allard's on the west coast).
Bernard Dervieux reports that he has sold his two-cylinder Deutsch-Bonnet, and is now focusing his Allard, which is at the opposite end of the vintage racing spectrum. It was good to see Bernard again exercising his silver Cad-powered J2 (also one of the first Allard's on the west coast) after a seven-year hiatus.
Last year Alan Patterson shared news about his two recent acquisitions – one of the few quaint, three-wheeled Allard Clipper 'mini cars', and the 'other' 1958 Allard GT coupe. Many vintage racing fans in the US are familiar with Bob Girvin's Chrysler-powered Allard GT, which incidentally, now resides in Europe. The 'other' GT coupe (right hand drive and powered with a Jaguar C-type engine) was built specifically for Sydney Allard who used it for his personal transport for several years. It went through subsequent owners until Alan Patterson imported it to Pennsylvania where he embarked on a major rebuild. This event at Laguna Seca was the car's maiden voyage.
Roger Allard was also present in the vendor zone with a silver J2X MkII. Roger had a prime spot at the foot of the Dunlop bridge and reported very good interest in the car. We also had an opportunity to test drive the car on the back roads around Laguna Seca…a full report is coming soon.
Two Allard's were represented in the auctions. First up was Bonhams, which was selling the Ford Cobra powered J2-2121. Unfortunately, the car failed to sell and is now being listed for $325,000 via Bonham's. Next up was K2-3017 that was offered by RM-Sotheby's. This immaculate and unique deDion equipped hemi-powered (factory modification) K2 was a steal at $137,000 (it was unfortunately the first car to cross the block).
All in all, the 2016 Monterey car week solidified its reputation as the premiere destination car gathering in the world. Nowhere else do this many historic, unique, and exotic cars gather in one place. If you've never been…you should go…and hopefully we'll be giving you a great reason to come with your Allard in 2017.